Apps
Note: User access to each private custom app must be granted by GIS Cloud team. Contact us for adding new users to the custom apps.
In Manager app under Apps tab it is possible to create, edit a new custom app and review all custom apps within an organization. Following apps can be customized:
It is possible to install Map Editor and Map Viewer apps and start a free trial. After the free trial ends, it will be necessary to purchase a license.
For installing a new Map Portal app, you will need to purchase Map Portal license.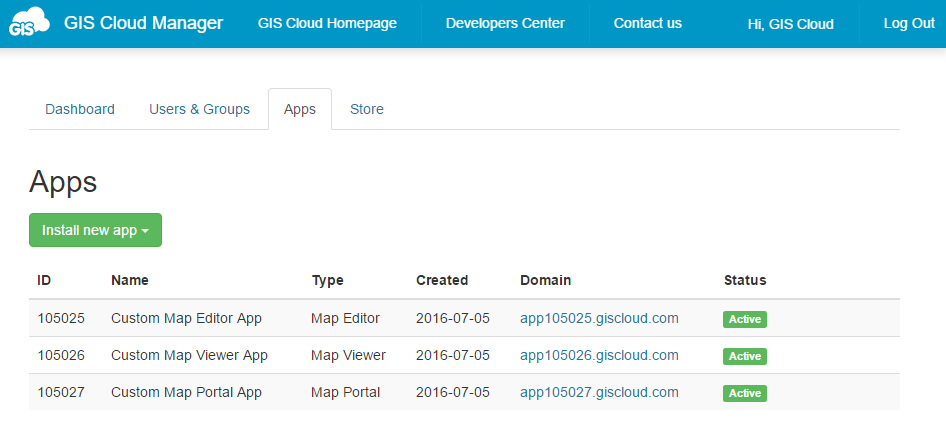 General tab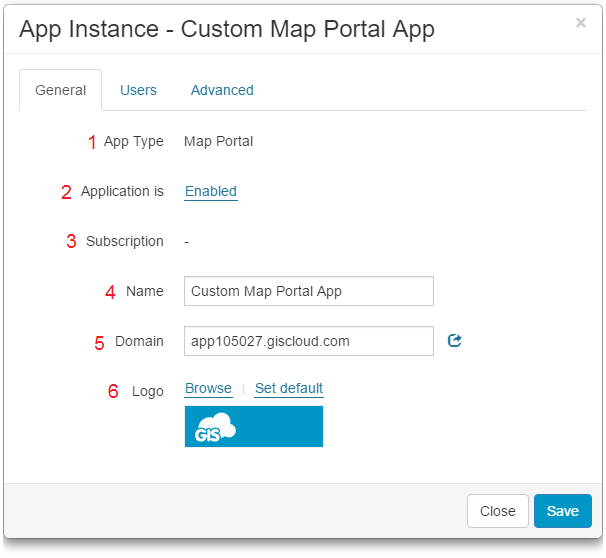 List of options:
App type – app can be Map Portal, Map Viewer or Map Editor.
Application is enabled – the app is ready for use. If the app is disabled, it won't be possible to access the app.
Subscription – info about when the subscription will end.
Name – in this box app name can be inserted.
Domain – each app gets default app domain. It is possible to change this domain and make it more user friendly. Please note that domain can be changed only by GIS Cloud team, so feel free to contact us.
Logo – browse a custom logo you would like to set to your app. The new logo will appear in the top left corner of the app.
Users tab
In this tab it is possible to add or remove users from a custom app. Please note that GIS Cloud team will need to enable user access to custom app, so please contact us.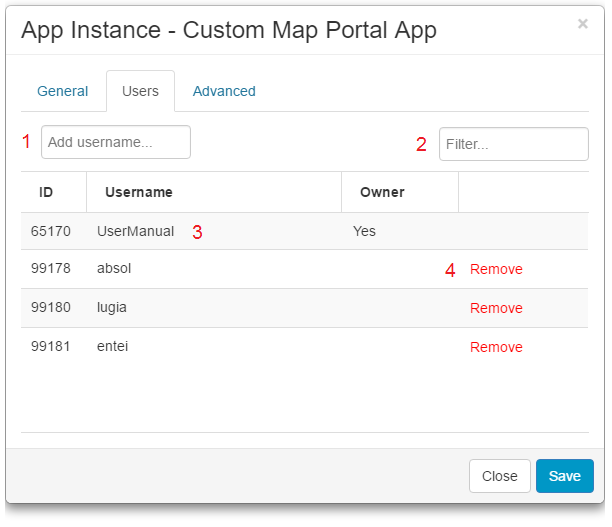 List of options:
Add username – write only username in the box to add a new user to a custom app.
Filter – write username to filter it from the list.
List of users added to the app
Remove user from the app.
Advanced
Under Advanced tab can be set various options, from a default map to ribbon color, tools and many more. For simple customization of Map Portal app we have developed App builder. Click here for detailed instructions and information on how to customize a custom app interface with App builder.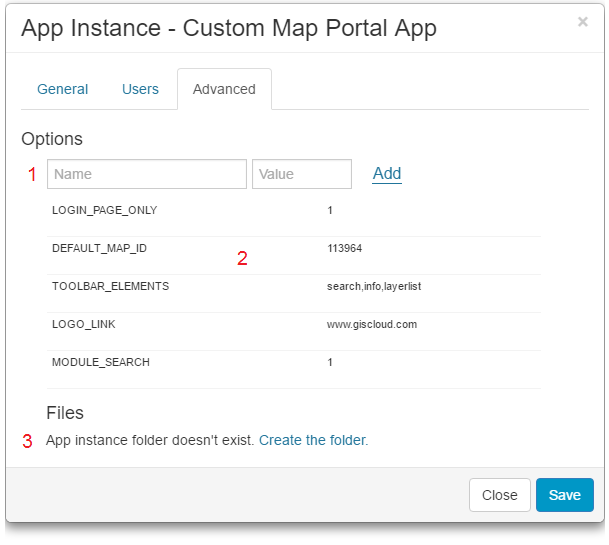 List of options:
Option box – insert an option to customize the interface. Please note that App builder automatically adds options.
List of options
App instance folder – here is possible to customize the app using JSON. Note that you can use App builder to customize the app.