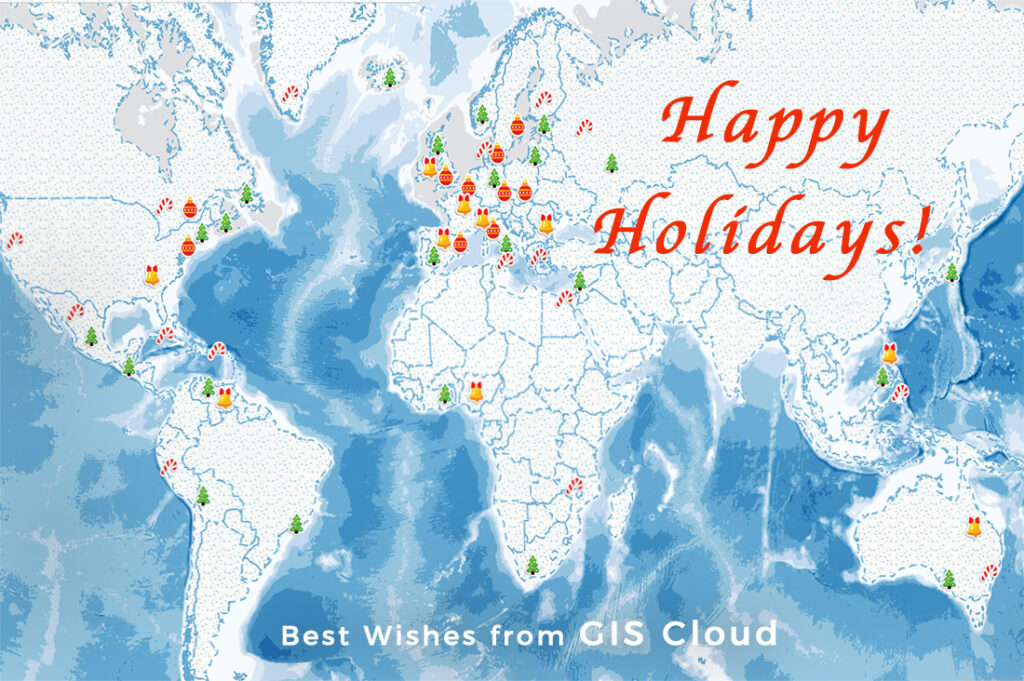 Dear GIS Cloud community,

We have to admit, 2017 was indeed a great year for us! It was a year full of new global collaborations, partnerships and conferences, and most definitely a year of new solutions, great projects, webinars, and workshops! With a short recap of our activities throughout the year, we have prepared a funny GIS Cloud Christmas map!

GIS Cloud sponsored 5 conferences all over the world, from FOSS4G conference in Boston and MundoGEO#Connect conference in São Paulo to GEO Business in London, and the biggest Utility conference in Australia. Besides participation at the big international geospatial conferences, there were many workshops we held: in Berlin, across US East Coast and all the way to Australia and New Zealand. We believe that investment and implementation of cloud-based GIS technologies in your workflows can show you instant results and progress. So, make sure to check out the most interesting webinars in 2017.

The biggest release we had this year was our Crowdsourcing Solution, a solution especially useful for Smart Cities, local governments, and non-profit organizations. If a picture is worth a thousand words, then a video demonstration is worth a thousand more! Check out the webinar on Crowdsourcing Solution for Utilities!

At this joyous time of year, we wanted to take a (short) break from a more formal content we usually post on our blog, so we prepared for you GIS Cloud Christmas Map!



The idea was to map funny and unusual Christmas traditions around the world. Did you know that a tradition exists in Japan, to have a family dinner on Christmas Eve at KFC? Besides that, you can search for the best Christmas cookie recipes while you're listening to beautiful Christmas carols from around the world! If that's not enough, we want to help your holiday traveling plans as we mapped the best Christmas Markets in 2017, selected by CNN Travel Portal.
We wish you abundance, happiness, and peace in a new year filled with hope. Happy holidays!

GIS Cloud Team