Following the official launch of GIS Cloud Crowdsourcing, we decided to prepare a webinar with a live demo showcasing the solution, scheduled for June 27th, 2017.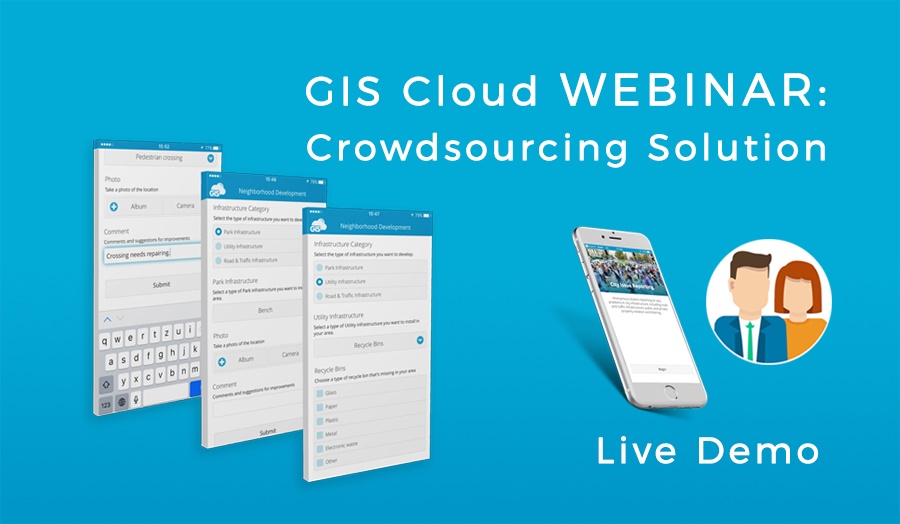 Many local governments and organizations around the world have one thing in common – they want to find an easy and effective way to reach their communities and citizens in order to get their feedback on a number of topics regarding the city infrastructure (parks, traffic, buildings), new projects or government services.
There are also a number of organizations that at one point in time had the idea of engaging the citizens or communities with the help of Crowdsourcing solution, but this either took too much time or money to develop, and in the end, there was a significant risk that the app wouldn't work as planned. All of these challenges can be overcome with the fully branded and customized GIS Cloud Crowdsourcing solution, which can be deployed faster than other custom solution on the market while having a competitive price and a guarantee that it will deliver exactly what you need.
If you are interested to see how it works and learn about additional benefits GIS Cloud Crowdsourcing solution offers, join us on this webinar.
Webinar Time and Date:
Tuesday, June 27th at:
8 am PST   11 am EST   5 pm CET
These Topics Will be Covered:

The key benefits and value propositions of the GIS Cloud Crowdsourcing solution

Live demo – How it works?

Q&A session
Who Should Attend:
Anybody interested in engaging citizens or communities via Crowdsourcing

Local and Federal Governments, Local Government Services, Non-Governmental Organizations and Consultants who want to make their organizations smarter or work with clients who are interested in Smart City solutions

Those who want to know more about applications  and benefits of GIS Cloud

Existing and future GIS Cloud users as well as partners