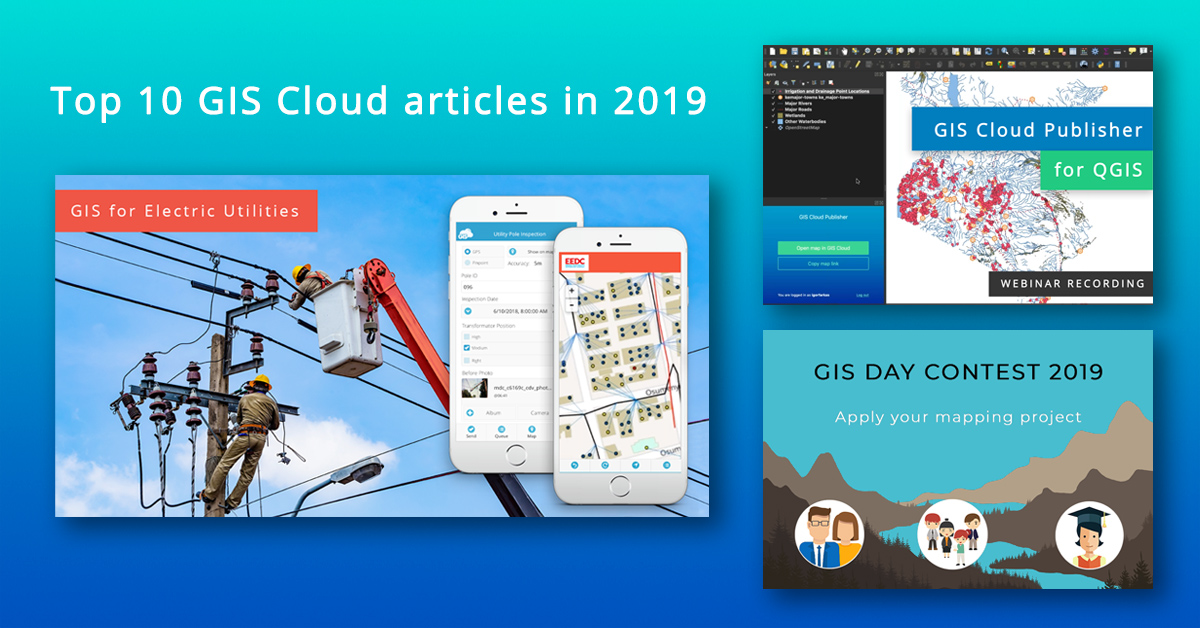 We like to start the new year by revisiting our articles and see what the readers liked most. 2019 was packed with case studies, use cases and interesting student projects, from a couple of guides for using GIS in electric utilities, archeology and water industry to a tutorial on how to turn your map into a cloud-based GIS app. In case you missed some of the top articles here's the top ten list.
GIS software has been empowering the electric utility industry for decades. It provides a robust framework for asset and workforce management as well as tools for planning and analysis. Today, the landscape is filled with desktop solutions like those from ESRI, open-source software like QGIS, but also a host of online GIS solutions.
In this article, we'll give you an overview of the uses of GIS for electric utilities and provide a real-life example. Also, we'll show you how to use GIS Cloud, our own solution for field operations and workforce collaboration in electric utilities.
The main goal of the contest is to promote initiative in creating meaningful mapping projects that contribute to communities around the world. Also, to motivate non-profit organizations, citizens, college students, academic staff, and start-ups to engage in the development of their local communities using modern GIS technologies. GIS Cloud team will select the best project ideas and help winners in the project's realization.
We wanted to show you the easiest way to transfer maps from QGIS to GIS Cloud. The idea is that what you see in desktop QGIS is instantly replicated on your GIS Cloud account.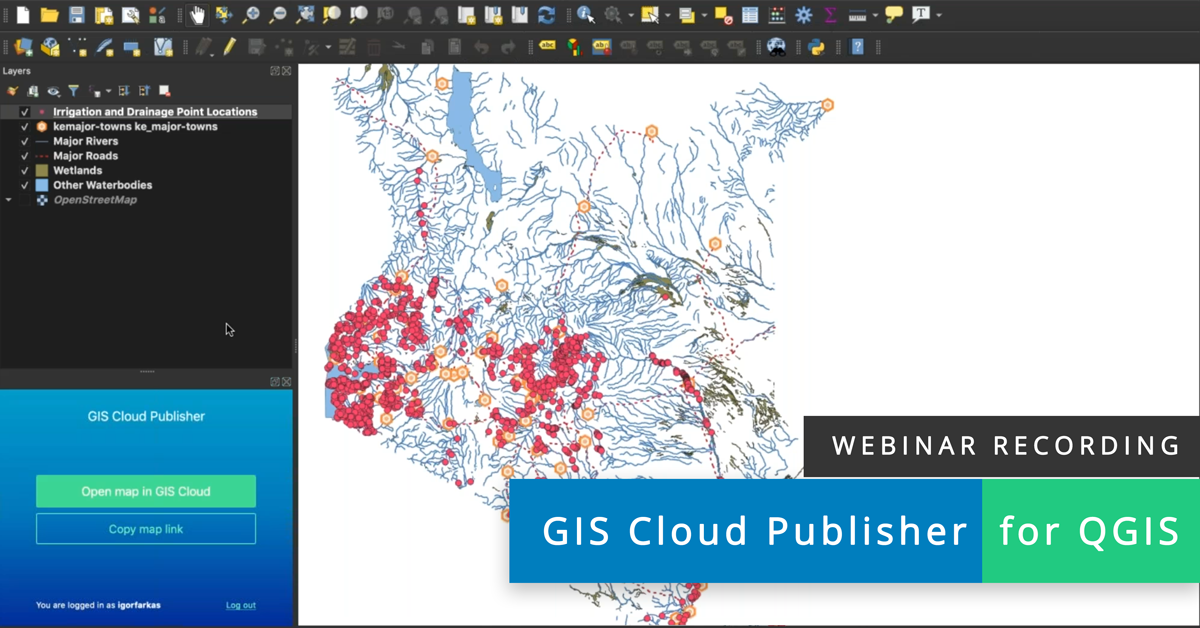 As always, we bring you the webinar recording for all who didn't get the chance to watch it last week or just want to rewatch the demo.
In this article, we'll show you the fastest and easiest way to create an online GIS app with the App Builder. We'll also weigh in on the benefits of online GIS apps over desktop GIS.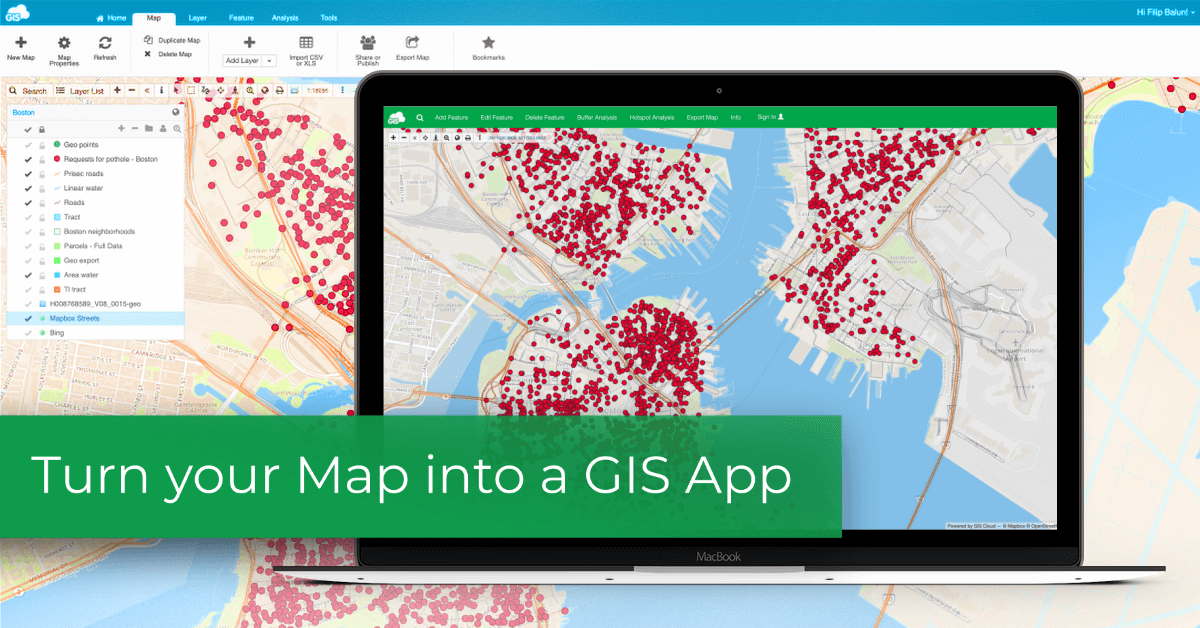 If your company uses maps and field data daily, you probably have a person in charge of the data. In most cases, that person is a GIS or CAD specialist or an entire assets management department. And it's common to have multiple streams of location data coming from field engineers, field workers, subcontractors, and others. All of this can equate to a mess of epic proportions, from errors when transcribing data to having problems with sending large datasets to clients.
The new Mobile Data Collection app update is up and running. We have upgraded the audio recording, added read-only fields to forms and enabled navigation links on map features.
Marko Sinčić, a graduate hydrogeologist from the University of Zagreb, created this project to bring the hydrology data of the Karlovac Municipality to the broader audience, the civil engineers, geotechnicians, hydrogeologists, scientists and others who can make good use of the data. This comprehensive hydrology inventory was made public via a map portal powered by GIS Cloud.
Some of our customers wanted to add a large number of items to a Mobile Data Collection select list. It would take them ages to do it manually, adding one item at a time. So we helped them do it all at once by using JSON.
To make things easier for customers in the future we have created this step-by-step guide on how to add multiple items to a Mobile Data Collection select list via JSON.
Over the last ten years, using GIS in archaeology has become one of the essential practices. For archaeologists, GIS has changed not only the data collection and visualization but also the perception of space itself. It's been said that the combination of GIS technologies and archaeology is something like a perfect match – acknowledging that archaeology is concerned with the temporal dimension of human behavior, for which the spatial dimension of research is essential.
We bring you a case study from the oil and gas industry that demonstrates the benefits of GIS for sharing mapping data with clients. Following a short inquiry with CORE Geomatics, we can see how the requirements in the Oil & Gas industry are met with the GIS Cloud solution.
CORE Geomatics is a service company from Calgary, dedicated to conducting in-field oil and gas surveys in the range from a single site to pipeline construction surveys.
This case study shows how the Smith Brothers Group improved the efficiency of condition inspections and field data collection by 30% with the GIS Cloud mobile apps for water utilities.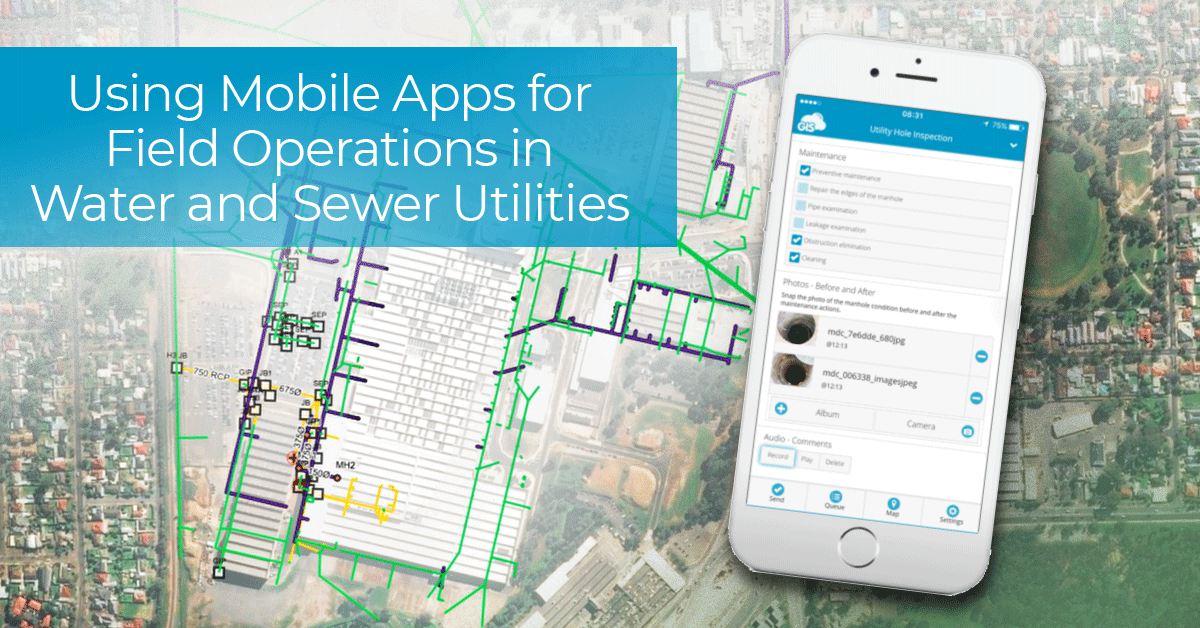 The Smith Brothers Group operates in Australia and works on various water and sewer utility projects for local government units. They also offer services for the pipeline, electric utilities, and real estate sectors. The company was recently acquired by the real estate giant Cushman & Wakefield. Keep reading and learn how to empower your field operations with mobile apps for data collection and tools for monitoring fieldwork.
We are preparing a lot of new and exciting case studies, webinars and use cases in the coming months so stay tuned.