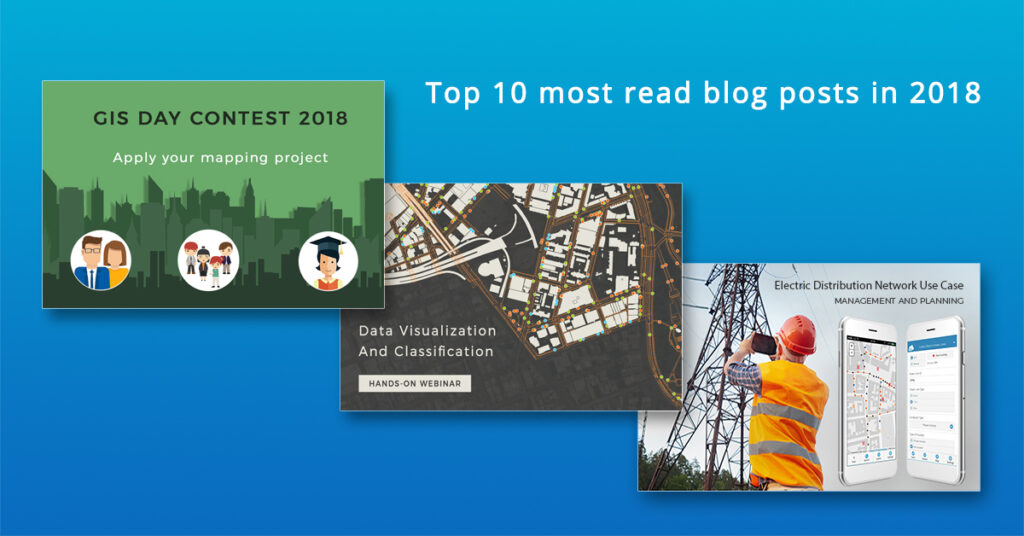 At the beginning of every new year, we like to revisit our articles and see what the readers liked most. 2018 was packed with case studies, use cases and interesting student projects, from using GIS Cloud to help fight electricity theft to assisting firefighters of Chile coordinate their fieldwork. In case you missed some of the top articles here's the top ten list.

Thousands of Geogeeks worldwide celebrate International GIS Day. We also join the celebration every year by organizing the GIS Day Contest. This year we had a record number of candidates as we had to review 70+ project ideas. We'll soon announce the winners.

The most wanted webinar in 2018. Discover how online mapping tools allow you to collect data in the field and upload datasets directly into a GIS web application. Make sense out of large amounts of information, efficiently visualize and classify your data.

A comprehensive use case about the central role that mapping technologies play in planning, management and monitoring operations within the electric utility information system.

Find out how to use GIS Cloud and remote sensing technologies for crop damage assessment process in this article. GIS Cloud for precision agriculture offers a powerful set of capabilities that improve farming practices.

In 2017 the firefighters of Chile faced massive fires across the country, in many distant locations at the same time. To coordinate teams and respond as quickly as possible, they decided to implement a GIS Cloud solution which provides real-time information on the closest and active firefighters, as well as the status and location of necessary equipment to handle the fire events.

A group of enthusiastic and engaged geography students wanted to recognize and enable people with disabilities in the City of Zagreb. To achieve this goal, they created the 'Mobility for everyone' project, focused on mapping the city infrastructure that helps people with disabilities.

To get rid of paper forms and keep the high-precision learn how to combine the Mobile Data Collection app with your high-precision GPS device.

Find out how one of our clients, Liburnian Waters, implemented GIS Cloud to map water and sanitary Infrastructure. Their utility asset data collection and inspection process is now a lot faster with GIS Cloud web and mobile apps.

This is a case study about mapping business units in the City of Zagreb created by a geography student Stipica Šarčević. He explained the process of data collection, visualization, and publishing with GIS Cloud.

The webinar is a hands-on tutorial on how GIS technology can help mitigate electricity theft by enabling real-time insights and proper electric network visualization. Learn how Enugu Electricity Distribution Company utilized GIS technology to tackle electricity theft in Nigeria.

We are preparing a lot of new and exciting case studies, webinars and use cases in the coming months so stay tuned.