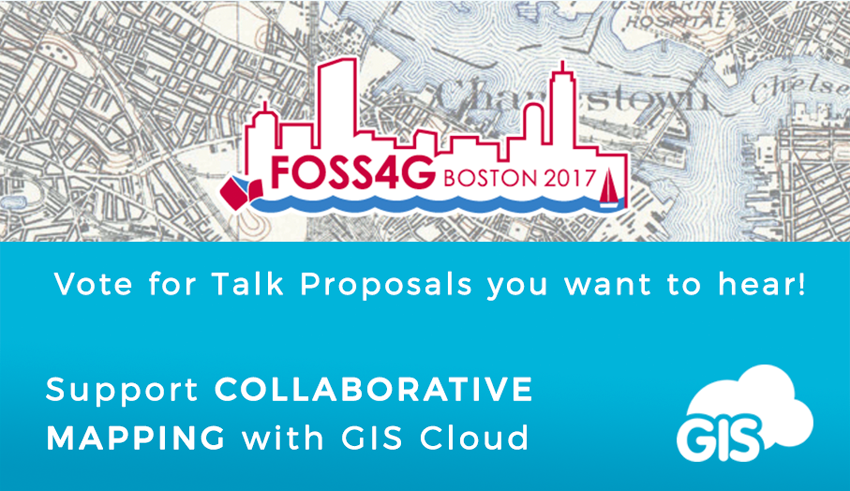 Dear GIS Cloud Community,
We are very excited to sponsor this year's FOSS4G Conference that will take place in Boston, from 14th to 19th of August 2017.
FOSS4G is OSGeo's annual global event focused on Free and Open Source Software for Geospatial. Each year, the conference brings together a wide variety of participants and organizations forming a community for sharing ideas, thoughts and enthusiasm for a constantly-expanding field of geospatial.
Our team put together a number of proposals concerning different topics. In order to get a chance for a presentation at the conference, each proposal needs to go through the community voting process. Community review deadline is April 10th, 2017.
If you want to show your support for GIS Cloud team at the conference, join the reviewing process and vote for our proposals:
Don't Code, Configure: Turn Your Maps into Apps

The Crowdsourcing Trio

Building a Complete Crowdsourcing Solution

The Dynamic Forms Challenge on Mobile

Offline Maps Sync using SQLite

Collaborative Mapping: Introducing The Concept of Real-Time Streams

Building a complete GIS Mapping Platform Using React + Redux and React Native

The Role of GIS in the Smart City Framework

Saving Lives with Collaborative Mapping

Raising Citizen Engagement with Collaborative Maps

Identifying Pathogens Using GIS Data Collection Apps to Improve Public Health

GIS for Forestry and Arborists – Improving Tree Preservation and Management Process

Making Geo Technologies Cool: Engage Students in Mastering GIS and Mapping
Vote for the proposals here.