Hey GIS Cloud Community,
Last week we covered how easy it is to create a project and start your field collection with GIS Cloud apps. This week we are going a bit further and will show you how to review and update your formerly collected data. Also, as promised, check out our MDC Special Offer and contact us!
Special Offer 1+1=3?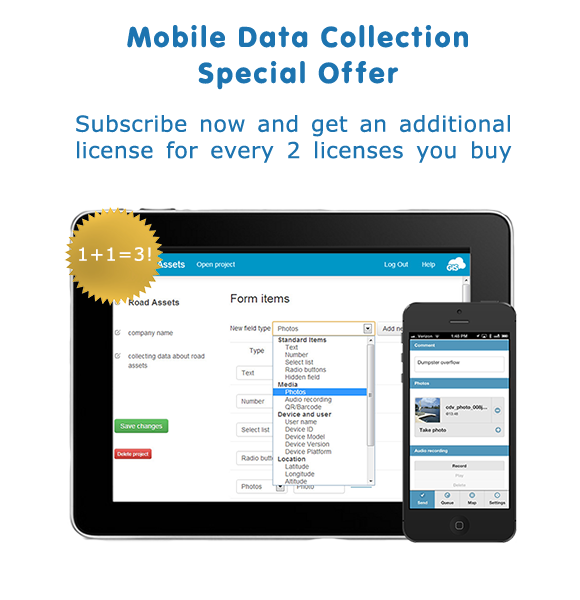 Yes, we passed our Math exams in elementary school, don't worry. It is just us trying to be witty about our new special offer. For every 2 MDC licenses you buy, you get 1 license for free. It is simple as that!
In other words:
you buy 2 MDC licenses for let's say 2 months, you get one MDC license for these 2 months for free
volume and period (6 months and annual) discounts still apply!
special offer will end on April 30th
Claim your offer today!

Review and Update your data in 6 steps
Challenge:
Review and update the status and conditions of your assets with the current and accurate information

Solution:
Map Editor + Mobile Data Collection
Upload your existing data to the Map Editor app.
Side note: Be sure to add your data from your database
Create a custom form in Forms Manager using a 'create from layer' option and save it.
Side note: double check your data is added from the database because repetitio est mater studiorum (repetition is mother of learning)
Access your form through Mobile Data Collection app under Maps & Layers Tab and:

Choose the map in which you have imported your data
Choose the layer based on which you created your form on

Side note: Projects tab refers to Mobile Data Portal application

Option A is to update your data by simply populating the form you created with the newly collected data
Side note: Do it even in an offline mode
Option B is to review your data directly in the app:

Click on the Map tab in your Settings
Once you are in the map click on the location you want to review and click on the edit button
Click on the accept edit button once you are done with the review

Side note: You can add layers and change base maps in Map Editor app, and changes will be seen in your MDC mobile app

Check out your work in Map Editor where all the changes you did (update and review) have been recorded in real time.
Side note: Do it with multiple users simultaneously from different locations (different cities, countries, continents – sky's the limit…literally – not available in the Universe…yet).
* for more detailed information please visit our user manual.