On Thursday, April 28th, we will host a webinar dedicated to benefits of Mobile Data Collection for organizations and businesses of different profiles.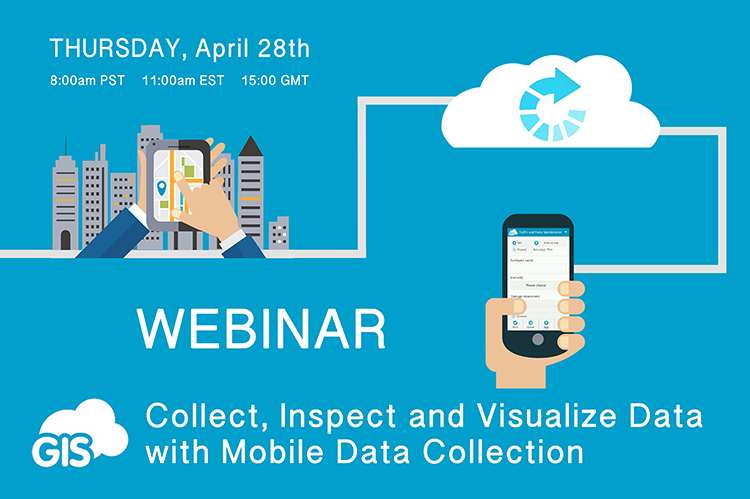 Field data collection is a part of workflows in various organizations and businesses. Whether you work on infrastructure maintenance, non-government projects, retail, forestry, roadworks or park maintenance and management, collecting and updating information with smartphones and tablets in the field can help you reduce time, costs and workforce necessary for various daily tasks.
Mobile Data Collection is a perfect tool for team coordination, inspection and supervision, asset management in real time. If you want to know how to use it, what are the benefits of including MDC in your regular workflow, and see it in action, join us on:
Thursday, April, 28th At:
At 8:00am PST    11:00am EST    15:00 GMT
REGISTER HERE
Following Topics Will Be Covered:
What is new in GIS Cloud, Mobile Data Collection and future developments

Creating your field data collection project, setting up forms and exporting maps

Benefits of using Mobile Data Collection for different industries

Real life examples of using MDC in

roadworks,

non-profit initiatives

in remote areas,

watersheds

,

public health

,

tree inventory

and other projects
Who Should Attend:
Everyone who is in a need for an effective data collection process in order to improve daily workflow and overall business

Local Government Departments, Contractors

and

Consultants

working with infrastructure, utilities, asset management, planning and roadworks

Businesses

that want to monitor and visualize data from various locations in real time, want a better quality assurance or control over work done by their contractors
Consultants

who want to help their clients to transform their businesses and organizations

GIS Cloud users who want to know more about Mobile Data Collection and future developments
Want to know more about GIS Cloud news and webinars? Follow us on Twitter, Facebook and Linkedin.