2017 was undoubtedly a big year for our team, filled with many great stories and milestones. Read all about it in our last blog post. At the beginning of every new year, we like to highlight the most popular GIS Cloud content for the previous year. It reflects both popular topics like Smart City technologies, Crowdsourcing Solutions for Utilities and other industries, as well as some of the use cases, webinar sessions and stories that shaped 2017.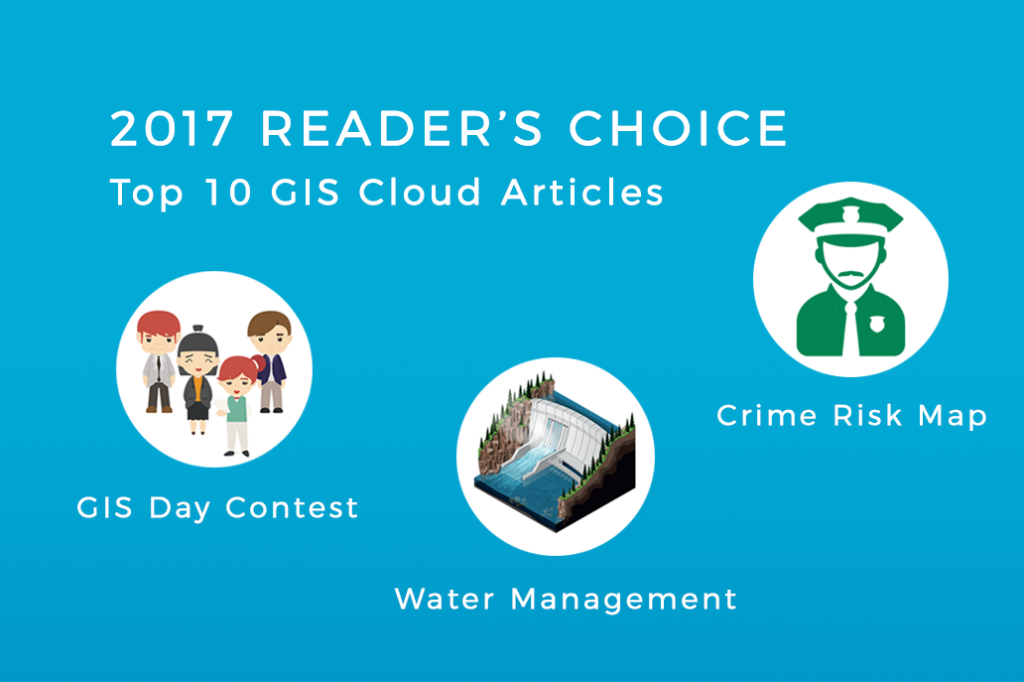 At the end of this post you can read about our plans for new content in 2018, feel free to contact us and share your thoughts on the topic. Here is a list of most read content on GIS Cloud blog:
1. Carabineros de Chile – Crime Risk Map
We can't be more proud of this success story from Chile and we are happy that you had the most interest in this particular story. Police of Chile implemented GIS Cloud solutions into their business process to overcome the challenges they encountered with preexisting big datasets, daily coordination, interactive mapping and public availability of the data.
Our GIS Day Contest is becoming more relevant with each passing year within Geo Communities, local governments, and NGOs around the world. With a great idea and the support of cloud-based geo-technologies, you have a huge opportunity to make a difference in your community. Think globally, act locally! Check out this year's winners rewarded with GIS Cloud premium licenses, technical and user support, and marketing support.
3. GIS for Water Resource and Watershed Management: Webinar Recording
A webinar that took most of the attention in 2017 is focusing on essential GIS Cloud tools used in Watershed Management workflows. With the technology available today, it's important more than ever to have an efficient system for managing and monitoring water resources and watersheds. Read more about GIS Cloud options for water management in the extended FAQ session.
4. Using GIS in Tourism – Tourist Map of Šolta
Many Geography students finished their internship programs at GIS Cloud in 2017. During the program, students have had a chance to launch and promote their own projects as well as to work on their master thesis. The project with the biggest impact on the local community was definitely the project done by Ana Mihojević, an interactive tourist map of the island of Šolta.
5. Tree Maintenance Made Easy Webinar Recording
One of the webinars we held from the environmental domain focuses on the presentation of GIS Cloud solutions for tree management. The webinar recording includes use cases, benefits as well as a demo of GIS Cloud solutions showing its value and role in the tree maintenance process.
6. Webinar Recording: GIS for Tree Inventory and Inspection
As an addition to the Tree Maintenance webinar session, we wanted to show you how GIS Cloud solutions can be useful in the Tree Inventory and Inspection process. The webinar is designed for arborists and forestry workers to introduce them with benefits of cloud-based technologies that could completely transform their existing workflows. Learn how to use GIS Cloud tools to improve your data collection process, coordinate the field workers and save money, time and resources.
7. Attend Free GIS Cloud Workshops in Australia (Melbourne, Sydney, and Brisbane)
2017 was a year of collaborations, partnerships, and conferences. The GIS Cloud Australia and New Zealand tour, almost a month-long business trip, was the most active and prospective tour of the year. In collaboration with our partners Spatial Vision, we organized a number of workshops and sponsored the Australian Utility Week where we had a chance to meet with our clients and users from the region.
8. GIS Cloud Crowdsourcing Solution Released
The biggest release we had this year was our Crowdsourcing Solution, a solution especially useful for Smart Cities, local governments, and non-profit organizations. Fully branded and personalized application that offers a simple solution for reporting problems, providing the user or citizen feedback or mapping the areas of interest using mobile devices or a web browser.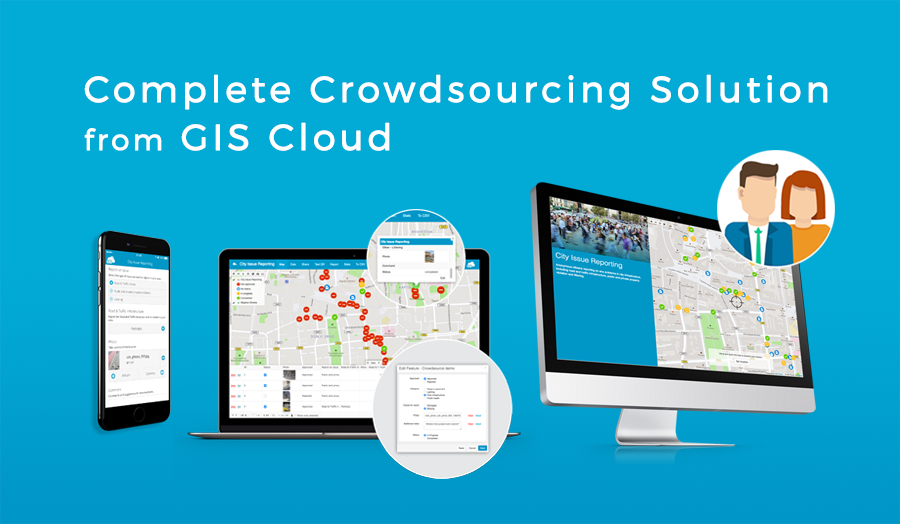 Our plans are getting bigger, so our team must grow as well. The members of our team are talented and dedicated professionals eager to make a difference. You are welcome to meet the members of GIS Cloud team more closely. Since this blog post, our team has grown even more. Meet Matija, Mario, Armin, and Ana!
10. GIS Cloud Training Sessions On August 15th in Boston
The annual FOSS4G Conference in Boston was a mandatory stop on GIS Cloud US East Coast Tour. Aside from our sponsorship and participation on the conference, we organized and held Training Sessions across the East Coast for interested parties, to show them GIS Cloud solutions first-hand.  
In the end, we would like to emphasize some of the posts that are still super popular on our blog and in that direction, announce some of the new content we plan to create this year. You really liked to read educational posts in 2017, like 'Challenges of drone mapping', 'GIS for effective mapping and managing water and sanitary infrastructure' and 'Agriculture: Risk Management Use Case'. Users can get the most of GIS Cloud products and the range of its capabilities, specifically for their area of interest, learning from articles focused on know how. With Educational and Training center on the way, we plan to provide great value to our audience with the 'how-to' training materials, webinars, tutorials, and use cases.
Knowledge is required to safely conduct high-quality projects and to open up to new technologies in the field of Smart City governing, asset management, mobile data collection in offline mode, utilities and many more. To highlight the importance of collaboration when dealing with spatial data-driven workflows, you can expect even more content on this topic, discovering new innovative tools to empower big and small organizations in their day to day work.
Interested in a GIS Cloud demo? Contact us here.
To keep up with the news from GIS Cloud, follow us on Facebook.