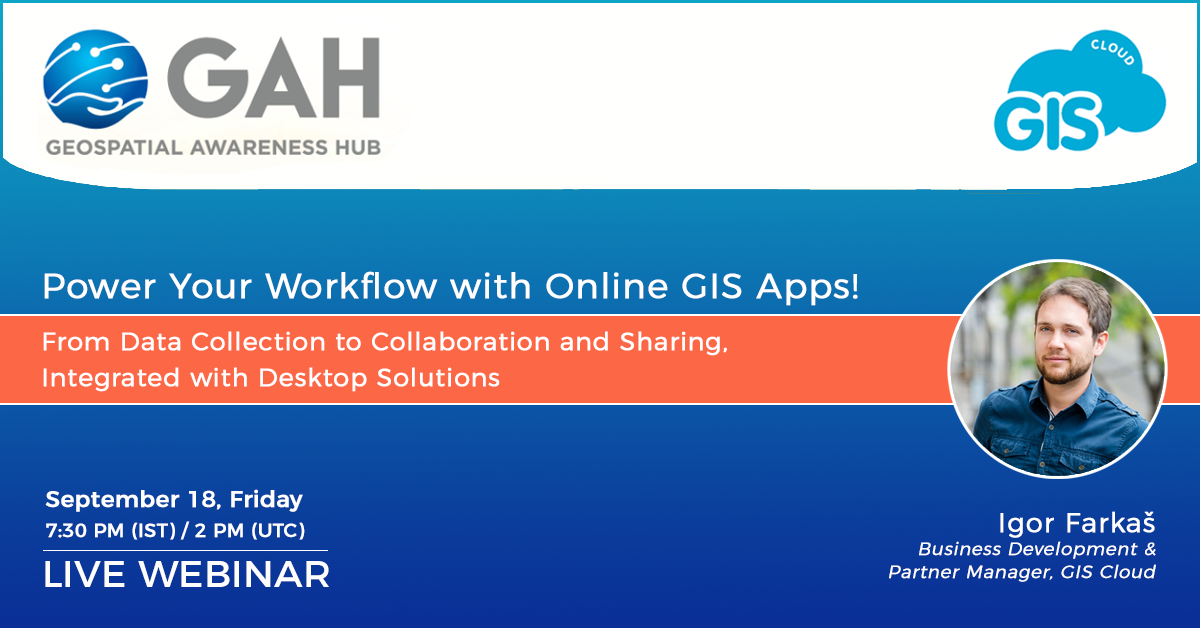 GIS Cloud is happy to announce a live and FREE webinar in partnership with GEOSPATIAL AWARENESS HUB on 18th September 2020, 7:30 PM IST (2:00 PM UTC.)

This is an international thriving platform dedicated to promoting geospatial technology through numerous workshops, meetups and education programs. 

You can Register for the webinar on this link. 

Igor Farkaš, Business Development and Partners Manager at GIS Cloud will be presenting the benefits of Geospatial Cloud Infrastructure and online GIS workflow. This will give you an idea on why & when one should go for GIS services and operations in the cloud. Igor is a GIS expert holding an MA in Geography and today he specializes in online GIS platforms. He will give a talk and a short demo of the GIS Cloud infrastructure and its spatial data-based applications with an interactive Q&A at the end of the webinar. 

The topic of the webinar will be: Power Your Workflow with Online GIS Apps from Data Collection to Collaboration and Sharing, Integrated with Desktop Solutions

This webinar will help you get insight and new knowledge of online GIS solutions for various business applications. 

Igor will explain why digitizing your data and making it accessible online in the cloud will help you improve your workflow and daily schedule. Also, he will address why integrating online solutions with desktop solutions like QGIS, using a plugin for map publishing and WFS service to collect data directly into desktop solution is empowering your day to day work. 
Enhancing the process of field data collection and infrastructure data management will help you eliminate unnecessary paperwork and efficiently utilize your business workflow.

There is a big advantage of using online GIS solutions. Real-time data collection, inspection and editing, team and job management help build up and grow your organization faster, better and smarter by saving time and costs.

Register for the webinar on this link.