Patho Map: Using Mobile Data Collection for City-wide Molecular Monitoring to Detect Dangerous Pathogens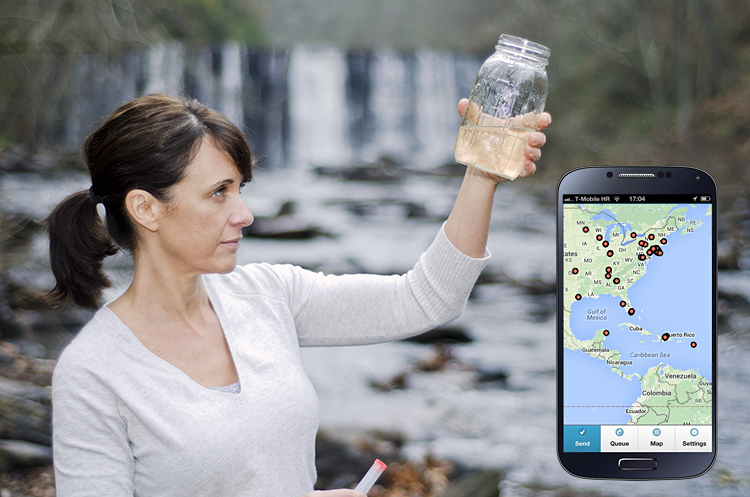 The connection of health and geographic location has foundations in the ideas postulated by Dr. Snow in the 1800's that geography and society have a role in disease. The application of Geographic Information Systems (GIS) to public health practice has great potential for improving our understanding of the ecology and causes of complex health issues. There are multiple uses and applications that can utilize GIS technologies in order to visualize, update, integrate, manage and analyze spatial data pertaining to the well-being of public health and environment. The Mason Lab at Weill Cornell Medical College has begun efforts to create a pathogen map or "PathoMap" of New York City and surrounding areas. By collecting information and using 'new DNA sequencing methods to monitor pathogens and dangerous organisms in real time. In future stages, this project could enable first responders and specialized threat teams to act quickly to contain and remove a biological threat'.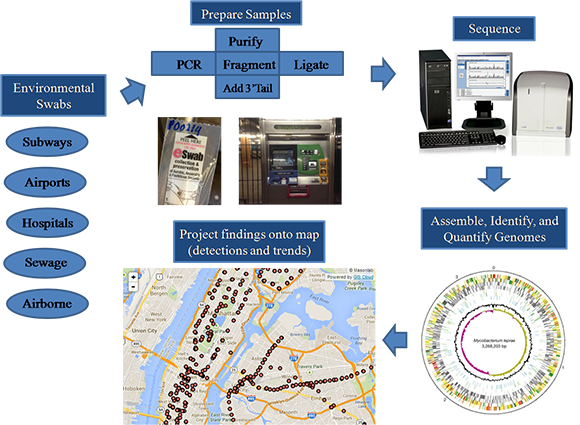 This is a project headed by Dr. Chris Mason and his lab at Weill Cornell Medical College with support from Illumina and using GIS Cloud's Mobile Data Collection application.
Click here to see the full map and results so far.
Challenges
Non-optimized workflow (processing, sharing, interacting and linking to multimedia)
Additional work for data visualization
Poor data quality (data validation on entry)
No internet connection in some of the areas
Volunteers with no previous GIS experience
Additional cost for volunteer training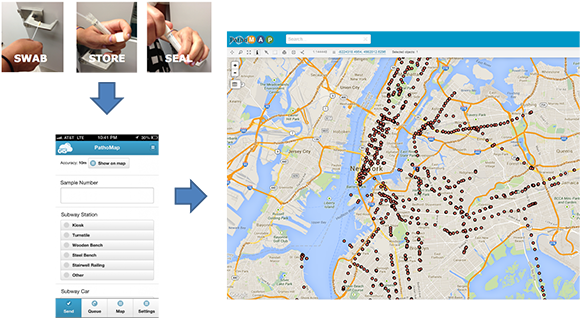 Solution
Mobile Data Collection for collecting data along with adding different types of media (photos of swabs on specific locations) based on custom forms in real time optimized for iOS and Android devices. Map Editor for visualization, classification and analysis of collected data, creating custom maps for managing the data in the office or/and in the field based on the needs of volunteers (orientation, points of interest), collaboration between various entities within and out of the organization, exporting data in various formats (.mif, .shp, .dxf, .csv, .kml, etc.) and more. Map Portal for sharing the results of the project to the community in form of a customized and simplified user interface which allows public to get the current and relevant information about the health issues
Results
PathoMap is one of many examples of how GIS Cloud apps can be used, specifically Mobile Data Application and its customization ability to your needs. By creating a custom form in Map Editor's Forms Manager, and accessing it through the MDC app, data collection becomes a time efficient and effortless process. Teams of researchers, interns, and volunteers swab highly trafficked areas in NYC to collect the DNA of hidden microbiological life. Some of the many places that researchers are collecting data from include train stations, buses, and parks.
These data locations can have different types of media associated to them, and are then sent to the Map Editor, where all the data is integrated in one repository. This repository is displayed to the public in a form of a map portal with the collected data, showing health patterns that occur in one's neighborhood. Here we emphasize a great potential using Mobile Data Collection Portal for this project.