After a successful GeoMeetup event in October, GIS Cloud is organizing another GeoMeetup in Zagreb, Croatia, on November 8th at the Faculty of Geodesy. The event is sponsored by IGEA, an IT company from Varaždin. In order to attend the event in November, you will have to register.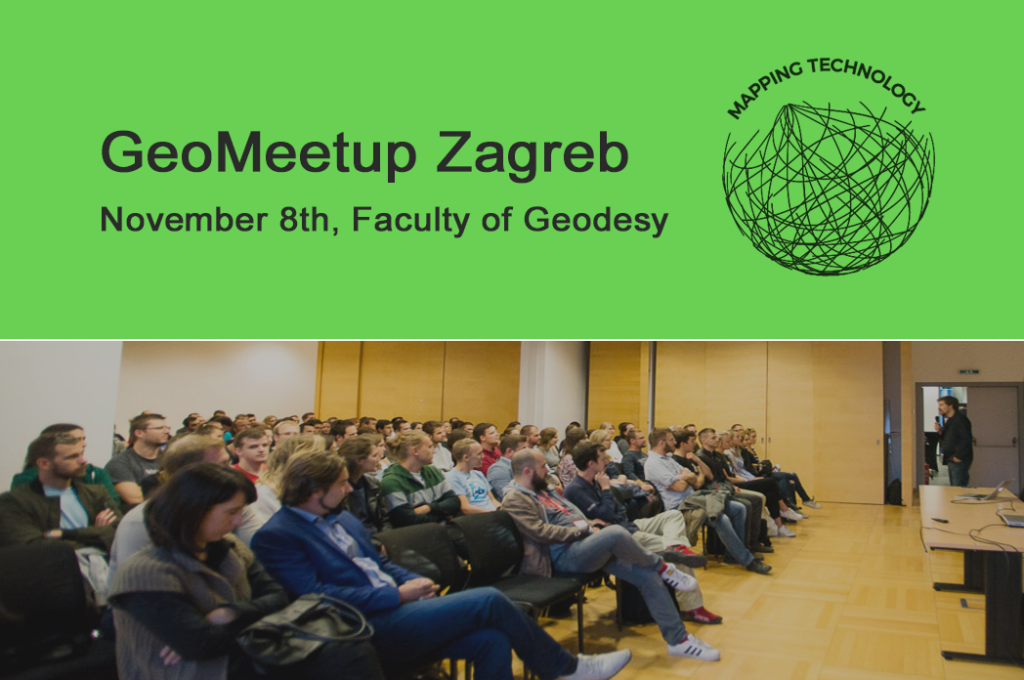 GeoMeetup Zagreb, which took place in October in Croatia's capital Zagreb, was a great success. The main goal of the event was to gather experts, companies, associations, students, and enthusiasts in the field of geoinformation and digital mapping technologies for lectures and discussions focusing on the development of mapping technologies and implementation of those technologies in various areas of human activity.
October's GeoMeetup Zagreb was attended by more than hundred of professionals and enthusiasts, from students to association representatives and experts from institutions and companies. You can get a sense of the atmosphere at the previous event in the pictures below.
Apart from the social aspect, there was a chance to listen to three very interesting talks. Lauren Budorick from Mapbox explained how to utilize WebGL technology for faster and more efficient map rendering. Andreja Radović from the University Computing Centre presented a way of displaying GEO data using the R programming language. Finally, Danijel Petrović from the Croatian Association of Remotely Piloted Systems presented all the details of the legal regulations necessary for the application of drones.
Join us in the next GeoMeetup Zagreb organized by GIS Cloud and sponsored by IGEA,   scheduled for the 8th of November at 6 pm CET, Faculty of Geodesy.
We have invited two interesting lecturers to share their knowledge of geospatial technologies. Marko Turković, a software engineer at IGEA, will hold a lecture on the 'IGEO Geospatial Platform', a web-based platform that allows users to browse, define, modify, visualize, share and geocode spatial data through a simple user interface. The second lecturer is Vlatko Roland, a vice president of the Institute for GIS in Zagreb and director of the Prehnit d.o.o, who will talk about a project conducted in cooperation with the State Institute for Nature Protection of the Republic of Croatia, 'Mapping inland habitats in the Republic of Croatia'.     
The event is open to the public, with no entrance fee. However, in order to attend GeoMeetup Zagreb on November 8th, you will need to register here.