To illustrate the capability of GIS Cloud Mobile Data Collection application, we've released a short case study about the infrastructure maintenance and management with the real example of park infrastructure in the City of Koprivnica, Croatia.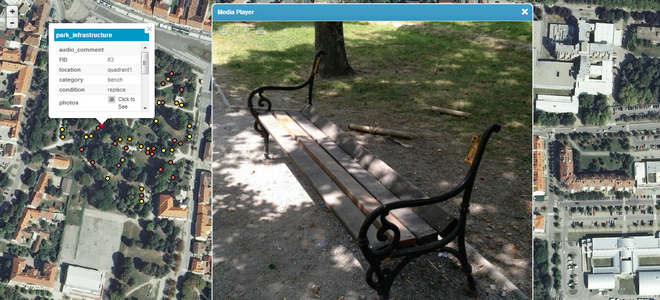 Click here to view the map and review photos.
There are many departments responsible for city's infrastructure such as roads, street lights, trees, traffic signs etc. that have various functions and responsibilities.
But one common thing that binds them all is the need for an accurate and timely information about the assets available to all the employees in the office and in the field which would allow them to collaborate in real time.
The Challenges
Poor quality, incomplete, often unavailable and outdated data about city infrastructure
Non standardized collecting methods
Discontinuous workflow that resulted in high cost management
High cost software and hardware
Need for GIS solutions that allows access by multiple users with different accounts
The Solution
Mobile Data Collection for collecting data based on custom forms (location and photo of a damaged asset, audio and text comment about a specific damage) in real time optimized for iOS and Android devices
Map Editor – a full featured cloud-based GIS for managing your assets, creating custom forms, analysing spatial data, creating maps and uploading data, sharing maps & data and many more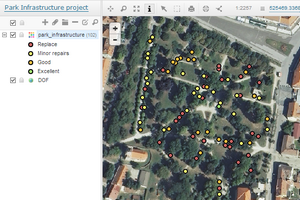 As soon as the data has been collected and sent employees in the office can react accordingly and forward the necessary information to the team in the field within few minutes.
Collected data can also be analysed and visualized on top of various available services such as WMS, WMTS, WFS, TMS and shared to other departments, managers for further assessment.
Maps can also be easily shared externally to citizens via map embeds who can then view your work and results in real time.
The Results
Real time collaboration
Data about city infrastructure collected in real time and managed off site in matter of seconds
Overall business improvement and general cost efficiency
Located, documented, processed and prepared data about city infrastructure in matter of minutes without any complications and all in one place