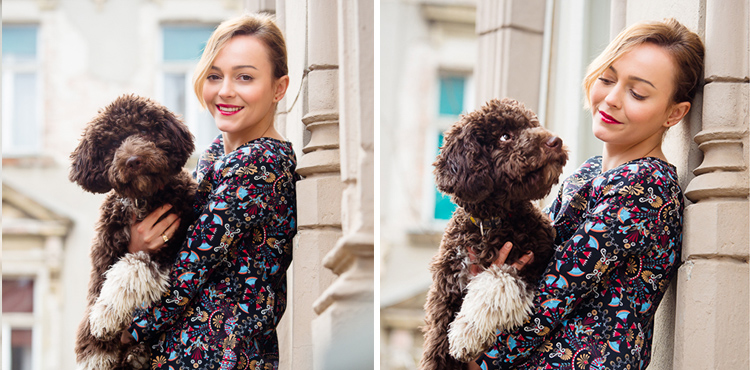 One of the first encounters with members of GIS Cloud team is in a chat with our Support team. We take a lot of pride in their great work, claimed to be one of the best parts of GIS Cloud user experience, according to many comments shared by our community. If you ever wondered who sits behind the other side of the screen, here is a chance to find out.
The first stop in meeting people behind the GIS Cloud is Tatjana, whose job is to lead Support and Quality Assurance team, making sure that everything works properly each day. Tatjana joined GIS Cloud when we were a very small team, consisting of only 5 members. Find out how she feels about her daily job, benefits of having a dog in a work environment and how a regular day in user support and quality assurance looks like.
1. Tell us a few words about yourself – why did you choose GIS/geography as your field of interest and how did you find yourself working in GIS Cloud's Quality Assurance and Support Department?
Even as a kid I really enjoyed looking at the World Atlas, but when I think of it, at the time those were just colorful and interesting pictures. The one who really got me interested in Geography was a high school professor and this was a starting point for my decision to study it. I ended up majoring GIS because it was something new and interesting as it brings possibility to use an old field of study in a modern, everyday world. Regarding GIS Cloud, I was really in the right place at the right time, I simply applied for a job and soon joined the team which was rather small at the time. First I worked on various tasks, but at the end, my affinities, the need that everything works as it should, got me to the quality assurance and support.
2. What are the biggest challenges you are confronted with in a day-to-day work?
The biggest challenge of my daily work is trying to provide the best help to as many users possible in the shortest amount of time. It is not possible to plan the day ahead, because it comes down to all day multitasking with different tasks day-by-day. Even if it demands lots of energy and concentration, at the end this is what makes my job interesting and drives me to do the best possible work.
3. Can you describe your regular working day at GIS Cloud?
Before the everyday rush starts I like to chill in the coffee shop across the street from office and plan at least the beginning of the day. I usually start by checking emails and creating a schedule of tasks my team needs to resolve within that day. When everybody arrives we start assigning job tasks, depending on priorities for the day. This is a very generalized description as each day is very different from another. Sometimes user support takes most of the time in a day, but there are also days where we are testing system intensively. Nevertheless, it's always very dynamic and intense.
4. What do you consider as  the best part of your job?
Even if working at a high pace is exhausting, this is something that I love. I am glad that my job tasks are different from day to day, because concentrating on various tasks simultaneously makes my brain tick. I don't like routine jobs where after a while you can do your job automatically without much effort, because then you start to do your job without enthusiasm which isn't an option for me.
5. Do you have any favorite projects you were doing as a part of GIS Cloud's team?
We have users all over the world and thanks to that we are a part of many fascinating projects. It is really exciting to see that people from different parts of the world collaborate thanks to our solutions. Also, there are many projects we do inside GIS Cloud. It's interesting to follow its evolution, how apps are changing over time, but also how our internal organization is growing and progressing. I am proud and very happy to see how far we have come in a testing process during the last few years, which is getting more precise and efficient every day.
6. What are the benefits of having a dog in an office environment?
Since I am bringing my dog to work, spending time at the office became more informal and casual. Because of this it is much easier to stay in the office as long as I need, but it is also much easier to handle other tasks in the spare time. Everything is more relaxed and you get more positive approach on the job. Dog definitely works as a stress relief.
Besides that, an occasional dog walk charges my batteries so I'm more concentrated when I get back to the office. We all know that you must move from a work desk once in a while, but it is hard to get used to do that. Dog in the office absolutely motivates you to have healthier daily habits. 🙂