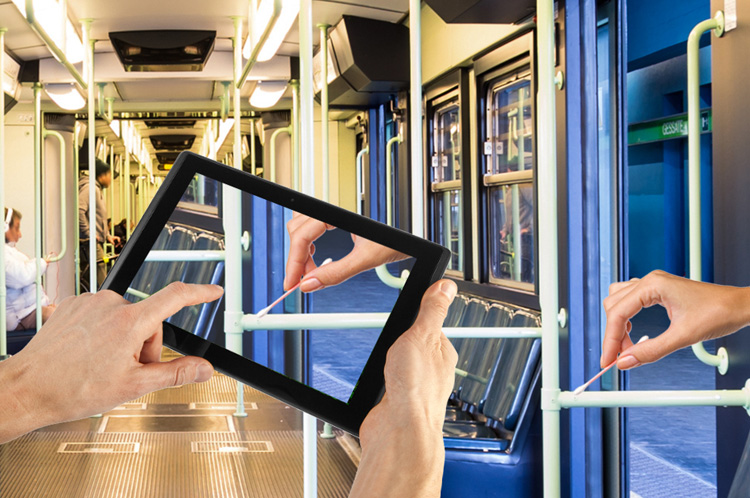 Every day, hundreds of millions of people around the world use public transit systems without noticing a complex microbiome that is invisible to the naked eye. In more than 50 cities around the world, scientists are working on building a molecular and genetic atlas of these transportation systems in order to establish a worldwide "DNA map" of their microbiomes.
Researchers studying these microbiomes as part of the MetaSUB project will use the GIS Cloud Mobile Data Collection app, highlighting the importance of its geospatial component. The initiative started with the pilot project called PathoMap, first conducted in 2013 in New York City. Three years later, this pilot has expanded into the global MetaSUB project.
On Tuesday, June 21, each transit system will be swabbed for samples that will be collected from different surfaces such as emergency exits, ticket kiosks, benches, stairwell handrails, garbage cans and elevators, as well as inside of  trains, buses, and mass-transit hubs.
Sample collectors will use GIS Cloud Mobile Data Collection to map the data points according to their geographic locations. Data fields in the form include a sample ID, place, surface, traffic level, notes, and an option to take a picture, while automatically adding a timestamp for each submission. Forms in the Mobile Data Collection have been expanded to include swabbing of different surfaces, including buses, taxis, parks, and airports. In the words of
Christopher E. Mason, an associate professor of physiology and biophysics and of computational genomics in the HRH Prince Alwaleed Bin Talal Bin Abdulaziz Al-Saud Institute for Computational Biomedicine at Weill Cornell Medicine:
We've been using MDC since 2013 and the app works seamlessly to enable us to collect samples across the world's cities and literally anywhere else in the planet. We will be able to watch in real-time as data is collected around the world.
Follow the swabbing process on Twitter using the hashtag #MetaSUB