If you are attending Australian Utility Week, don't miss your chance on November 30 to collect points using the Mobile Data Collection app and win GIS Cloud prizes.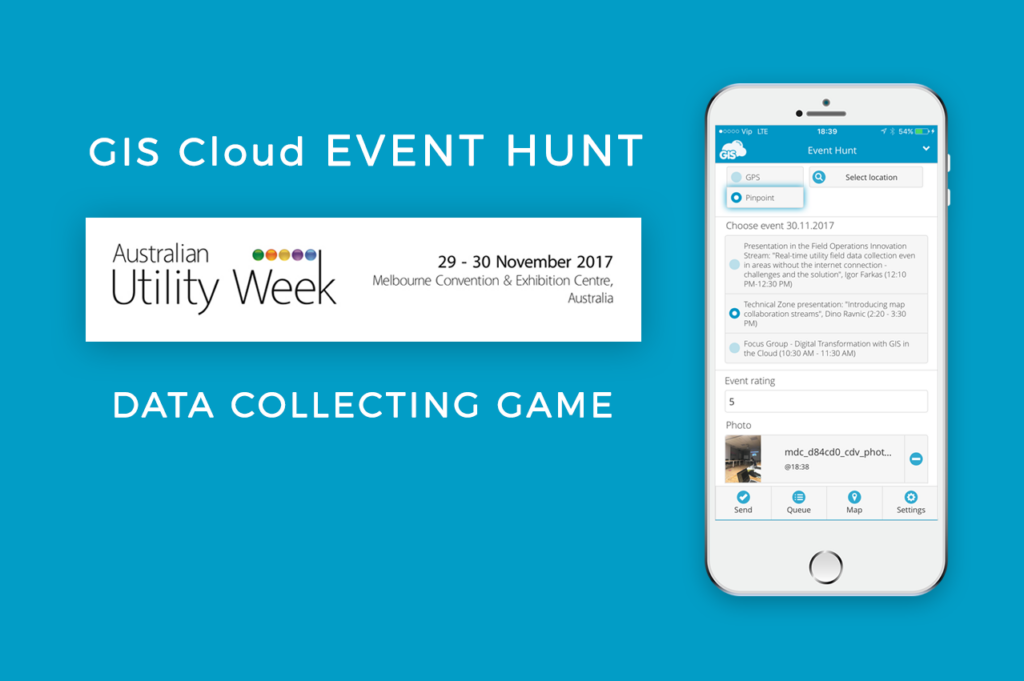 As strategic sponsors of the Australian Utility Week, taking place from November 29 to November 30 in Melbourne at the Melbourne Convention & Exhibition Centre, GIS Cloud will have a booth (D02) and also contribute to the conference program.
As we will host a focus group, a presentation in the Field Operation Stream and a Technical zone presentation, it seemed a good idea to combine these activities with our exhibition at the conference and give visitors the opportunity to try one of our solutions for asset management – Mobile Data Collection.
How to win GIS Cloud licenses:
Stop by the GIS Cloud booth on November 29 or November 30, fill in the form and download the Mobile Data Collection app, and get further instructions

Collect points on November 30 by visiting, taking a photo, and rating 3 key events

Return to the GIS Cloud booth where the top 3 participants in the game will win GIS Cloud prizes
Key events to attend on November 30:
10:30 AM – 11:30 AM

Focus Group –

Digital Transformation with GIS in the Cloud

– Focus Group Leader: Igor Farkaš (GIS Cloud)

12:10 PM – 12:30 PM

– Presentation in the Field Operations Innovation Stream –




"

Real-time utility field data collection even in areas without the internet connection – challenges and the solution

"; Speaker(s): Igor Farkaš , Business Development Manager (GIS Cloud) and Craig Molyneux, Leader, Visualisation Services, (Spatial Vision)

2:20  PM – 2:30 PM

Technical Zone 10 minute presentation – Dino Ravnić, CEO (GIS Cloud) – "

Introducing map collaboration streams

"
Get more information directly at GIS Cloud's booth D02 (Floor plan).
If you wish to visit the event as our guests, please register using the GIS Cloud customized e-ticket.
Also, in case you won't be able to attend Australian Utility Week, join us at our free workshops in Melbourne (November 28), Sydney (December 4), and Brisbane (December 5). For more information, click here. Also, we will have free workshops in New Zealand – Wellington and Auckland.
For any additional questions, drop us an email at hello@giscloud.com