With the latest GIS Cloud update we've introduced new features that enable you to upload and prepare your data faster & easier than ever!
Drag & Drop
You can now upload your data simply by dragging files (shapefiles, .tiff, .mif, .sid etc.) from your desktop to a GIS Cloud app running in your browser. With this intuitive feature you can instantly and automatically create new maps or add layers to an existing map just by doing a simple file Drag & Drop. For example if you drop your files on the "Home" screen a new map will be created. If you drop them in an already opened map your files will be added to that map as new layers.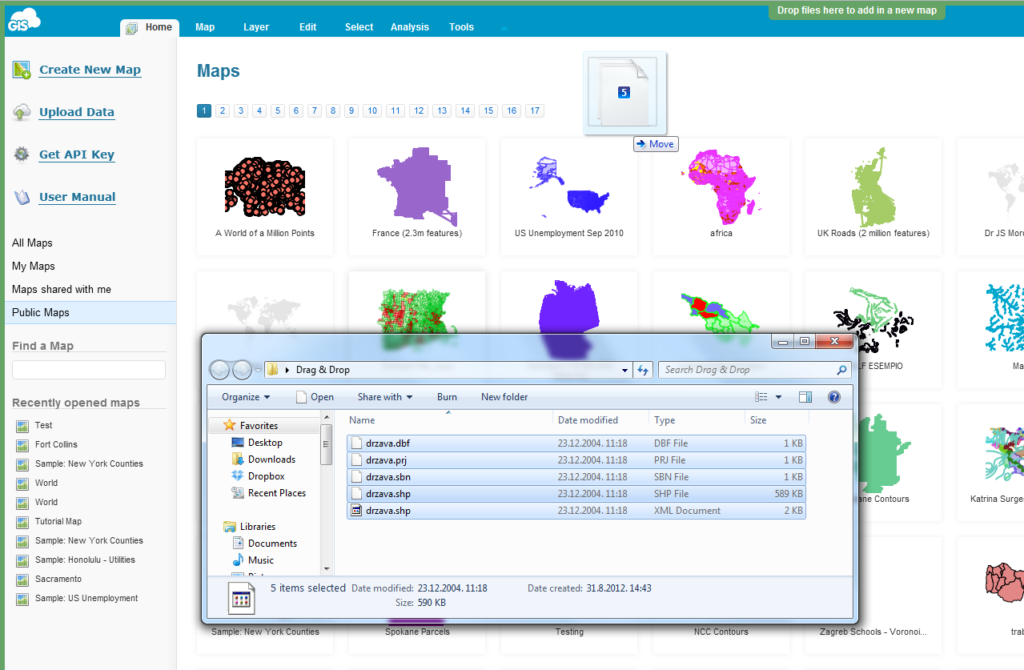 Web to Cloud Upload
With the Web to Cloud Upload feature you can now directly upload data from the Web to your GIS Cloud storage. There is no more need for you to download data locally to your desktop and then upload it again to GIS Cloud. This feature is ideal for uploading larger data sets as you can now upload those from the Web directly to GIS Cloud.
Also in addition to saving time, from now on you can create maps and upload data also from mobile devices like tablets. All you have to do is to paste a web URL to the uploader and have new data ready to be used in matter of seconds.

For more information about Drag & Drop and Web to Cloud Upload features please visit the following GIS Cloud User Manual section: https://www.giscloud.com/manual/map-editor-manual/import-and-export-data/.