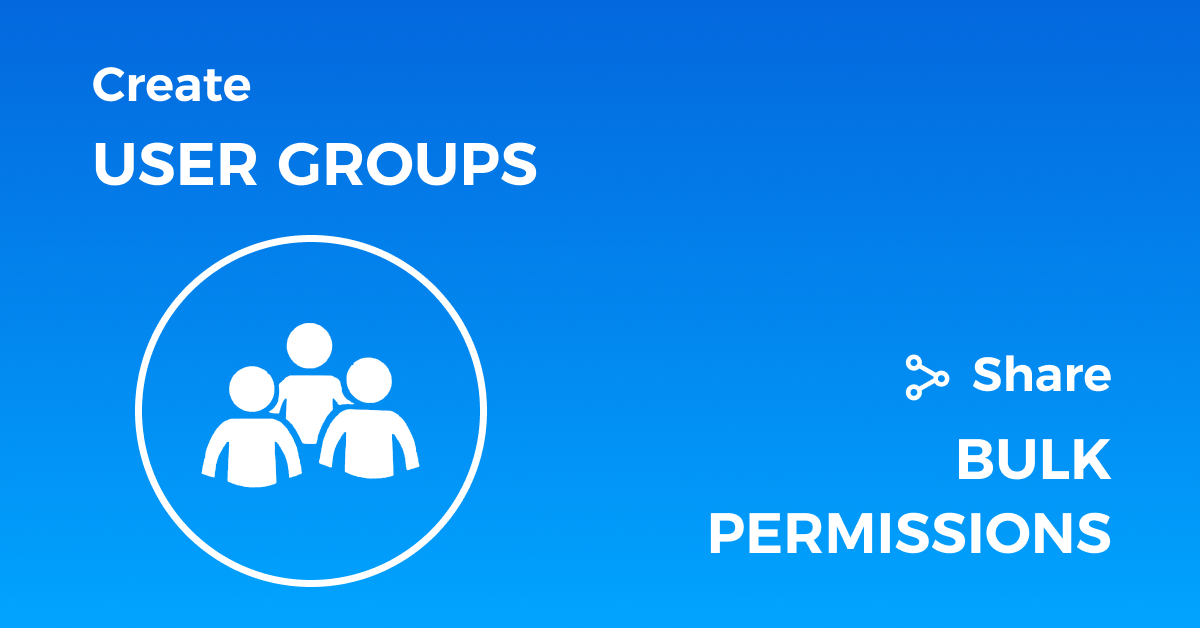 If you have many users in your organization, the best thing you can do is organize them into User Groups to simplify your everyday workflow. 

Having a lot of users can be complicated and hard to follow, so to illustrate how easy it is to create users, organise them into groups and share bulk permissions we have decided to give you a quick example.


Create and Organize a New Group – Road Maintenance and Management Example
Imagine you are working as a contractor on a roadworks maintenance and management project, which includes various stakeholders, like City Management and the Agency of Transportation. 

City Management wanted to find a contractor for its infrastructure project, through the Agency of Transportation. You are in charge of this project and need to report your progress to the Agency and City Management. 

You have your own crew of specialists who manage the project in the field and from their office. With GIS Cloud apps and services, you can improve their workflow and reporting process. 

In this case, as a project manager, when you need to manage and distribute a large set of data to many stakeholders, and manage different teams in the field, and in-office User Groups feature comes in handy. 

Its purpose is to simplify the process of sharing data and user permissions to an entire group of people, by creating, managing and editing custom user groups. 

To make it even more comfortable, our team developed a BULK SHARE PERMISSIONS option, which means that you can assign a set of permissions (edit, view, report, etc…) to all group members at once.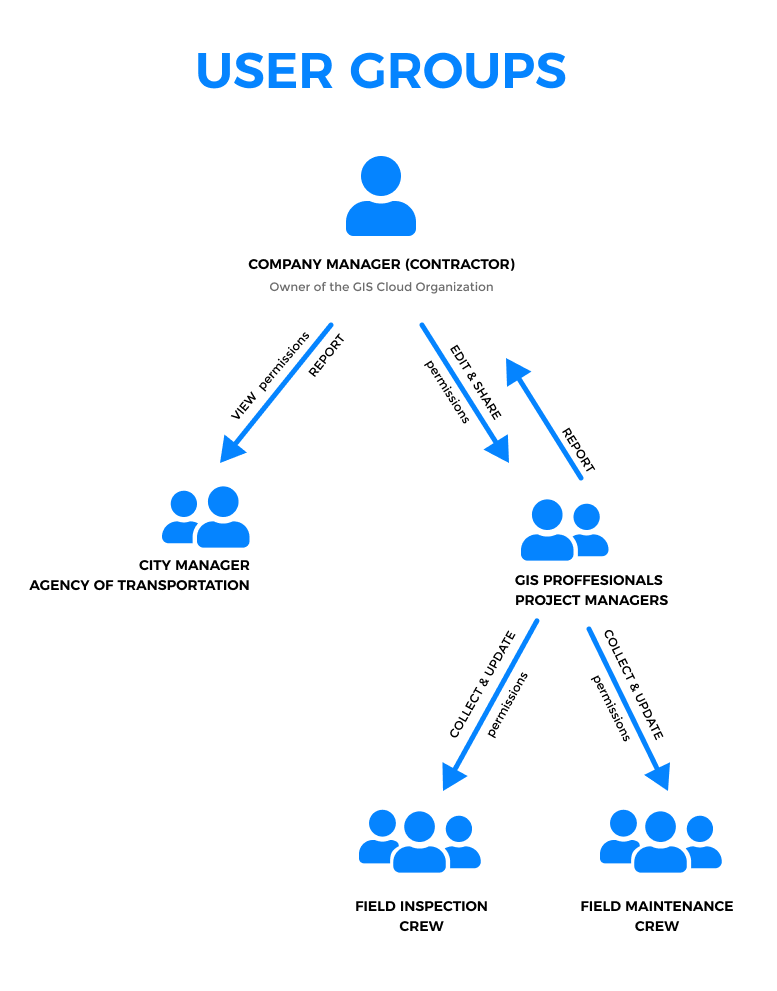 Field and In-Office Workflow 
Let's say that you want the maintenance and inspection crews to upload the field data using Mobile Data Collection app, and monitor their daily tasks in Map Viewer. 

The quickest and easiest way to do this is to create one or more "Field Crew" groups in GIS Cloud Manager, where you can add different subgroups and manage group members. 

If you want to share a particular layer, you can assign additional permissions to any of your previously created groups, directly in Map Editor and other GIS Cloud apps. 

The same goes for your office crew, whose members can have different permissions assigned, to edit and view the data. 

To make the reporting process more manageable, you can assign permissions to stakeholders from the Agency of Transportation and City Management to view the work done directly in the project.  The fantastic thing about this is that the stakeholders don't need to be a part of your organization.

This reduces the immense paperwork for both your field logistics and external reporting process purposes and makes the decision-making process more comfortable and easy.  

In this educational video tutorial, you can find out step by step the process of creating user groups and assigning permissions.




Also, here is a quick tutorial:

Create And Organize A New Group 
In

GIS Cloud Manager

, under "

Users & Groups

" tab click on the "

Groups

" button 

Enter the group name and press enter or "

New Group

" button

Add users (members) to the group – click on the

Users

icon

Write a username and click on

Add

button. Please note that the users need to have a valid GIS Cloud account. 

Hit the

Close

button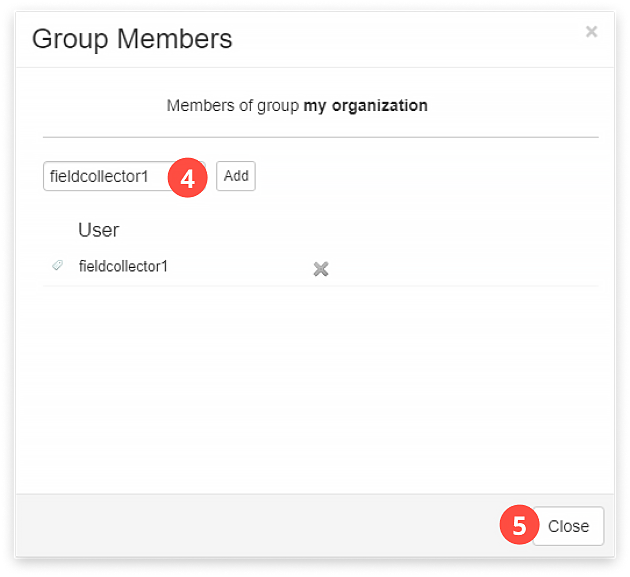 Cool note #1
You can add users that are not a part of your organization too! 

Cool note #2 
It's also possible to create Subgroups with different permission levels. 
To do so, just drag&drop an existing group under the (1) "parent" group. The parent group will inherit all permissions assigned to the (2) "child" group.




If you wish to learn more about creating new users, manage users, share your projects, assign permissions, everything you need to know about GIS Cloud apps and platform is in our Learning Center
If you are interested in using GIS Cloud for your management projects, Sign up for the free 14-day trial.
You can also contact our Solution Consultants to help you set up a desirable, customized GIS Cloud solution for your specific needs and workflow!