The fast pace of today's business requires more flexibility and the ability to reach your data at any time. GIS Cloud, as always, steps up to the pain and we deliver iPad optimized GIS Cloud to our users. Users can just use their browsers to view their maps and data, all that without the need for a native app.
Our innovative HTML5 mapping technology has enabled us to provide you with such possibilities. Another big benefit is you can now work with big data on your iPad as well. Ability to reach data at any time or share a map to an off-site team can be valuable for local governments, large organizations, utilities, consultants, and many others. GIS Cloud is adjusted to deliver great user experience within iPad environment. Tap on the map and get simple access to attribute information. Swipe to pan or pinch to zoom for an amazing mapping experience even in off-site activities.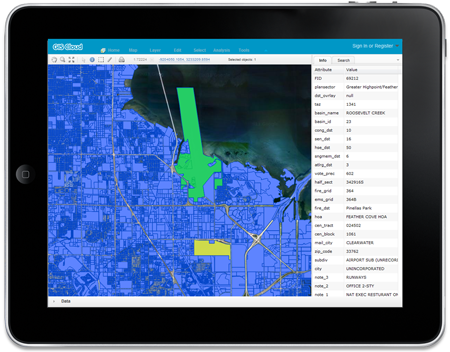 As requirements for this kind of service grow, we'll focus on making it even better. So when you try GIS Cloud on iPad, do come back to us with feedback and help us raise the already high level of user experience. If you have any specific needs or just want some information please drop us a line at info@giscloud.com.