We previously announced one Workshop in Syracuse, NY, but due to a big interest in our solutions, we decided to organize two workshops, one in Albany and the other in Syracuse!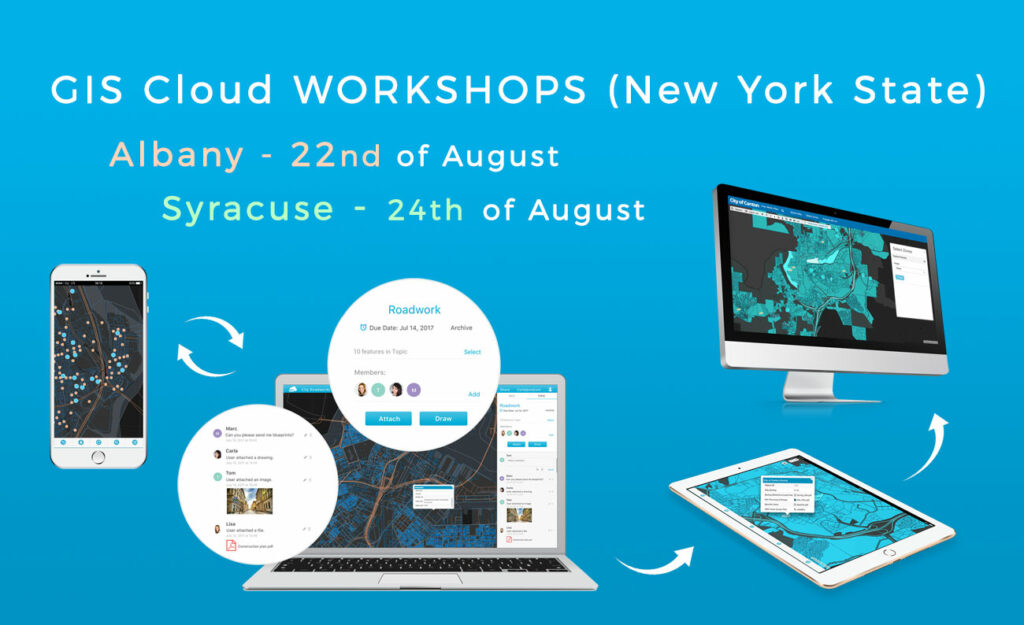 The first workshop will be held on 22nd of August in Albany at 10 am (not in Syracuse as previously announced), at 10B Airline Drive, the PONY Room.
We will have the second workshop in Syracuse on 24th of August at 10 am, at the Syracuse Center of Excellence, 727 East Washington St., Room 203.
Attendees will get a trial access to GIS Cloud Crowdsourcing Solution, a City Portal, an exclusive early access to the new GIS Cloud platform and a GIS Cloud T-Shirt with a cool new design.  
We have limited seating for both Workshops so make sure to register till Friday the latest. You can find the registration form below  the schedule.
GIS Cloud Workshop Sessions:
10.00 – 11.15:  Mobile Data Collection – Learn how to create projects and collect data with your smartphones and tablets
You will learn how to deploy various data collection projects like tree inspections, utility maintenance, city infrastructure monitoring, and more through existing use cases and live on-hand demos.
Every attendee will end up with a data collection project of their own and will be able to set up new projects according to their needs.
11.15 – 12.00:  Learn how to navigate through a powerful Map Editor
GIS Cloud team will guide you through the process of creating a map in Map Editor, editing capabilities and symbology, as well as analysis tools. You will also learn how to share your data with different permissions with your colleagues to easily collaborate on a map.
LUNCH BREAK 13:00 – 14:00
13.00 – 13.30:  An early preview of the New GIS Cloud Platform and innovative Collaboration Streams
Get an exclusive preview to GIS Cloud Collaborative streams technology that will change today known workflows on a map and learn about how to make the use of collaborative mapping in different set-ups and use cases.
All participants will get a code for an early access to GIS Cloud 2 beta version after the session.
13.35 – 14.05: Crowdsourcing Solution – Enable the public to send you information from the field through your own branded mobile app
Learn what's needed to enable your communities to report from the field and what are the benefits of having a crowdsourcing solution.
After the session you will get a code for the complete crowdsourcing solution for testing purposes.
14.10 – 14.45: City Portal – Create your own branded web app without coding
Learn how to create a custom and branded app without having to write a single line of code in just a few minutes. All participants will have their own branded City Portal ready for testing after the session.
14.45 – 15.00: Closing remarks and Q&A
Register for the workshop here: