We want to thank all the GIS Day Contest 2018 participants for sending us their project ideas. We have received 80+ applications, making this the largest GIS Day Contest we ever held!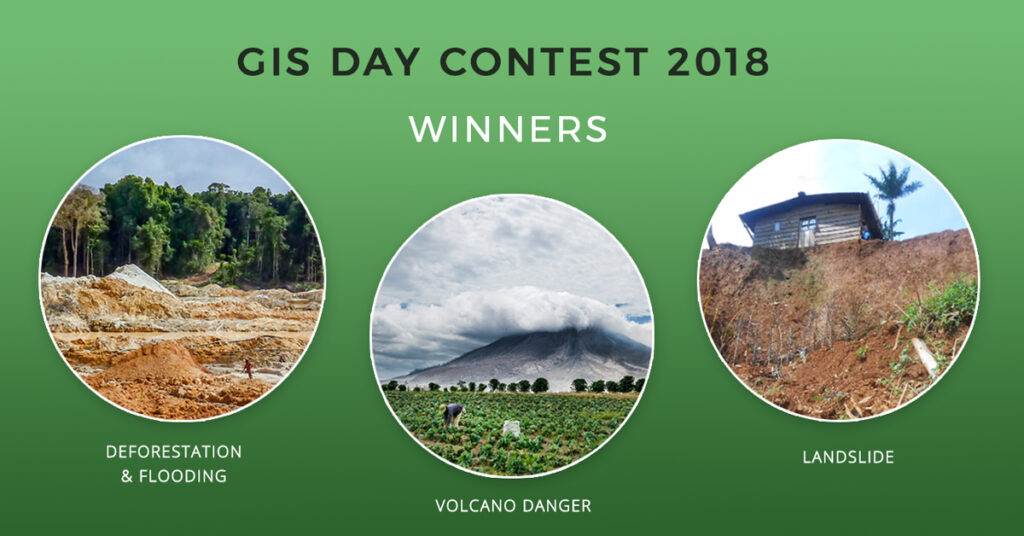 There were many interesting projects, ranging from wildlife research and agriculture production to waste management and disaster risk reduction. We had thoroughly examined all of the applications and picked the top three with the most significant impact on local communities.

This year the GIS Cloud licenses and support go to the Bicol University in the Philippines, to a dedicated group of GIS students from Italy and an NGO from the Democratic Republic of Congo. Here is an overview of every awarded project idea.
Mapping of evacuation shelters within a volcano danger zone
The project is called "Mapping of Temporary Evacuation Shelter Near the HH Located within the Mayon Volcano Extended Danger Zone, Albay Philippines." The Bicol University College of Engineering will collect geographic locations of households relative to the extended danger zone of the Mayon volcano. This will help people that reside in the danger zones to evacuate at the right time. Prof. Ana Marie Abantewill as the project manager, five faculty advisors and 60+ students will work together to make this project come to life.
Detecting forest destruction and flood-affected areas after a severe storm
The second project hails from Italy, and it is called ROOTS (Recollection Of Original Territory after Storm). After the severe storm that affected northeastern Italy between October and November 2018; Nicola Case, Daniel Tamburlin, Simone Brancher and Maria Patrascanu; a group of GIS students and recent graduates realized the need for citizens to witness the real environmental and social impacts of this high return period event. The primary project objective is the detection of forest destruction and flooded areas, empowered by GIS instruments and satellite imagery, coupled with mapping of damaged infrastructure.
Reducing landslide vulnerability in South Kivu
The third project that won GIS Cloud licenses comes from BEGE-RDC, an NGO working on geological and environmental issues. The project is called "Mapping landslide susceptibility and perceptions to reduce people vulnerability in South Kivu," and it aims at mitigating the current landslide problem in the Democratic Republic of Congo. According to the UNDP, in South Kivu, in particular, between 2010 and 2015, landslides caused the death of 134 people and the destruction of 700 houses and 4 schools. However, there is little information on the spatial distribution of landslides in this region, so EGE-RDC wants to collect the data to enable catastrophe prevention.


For each of these projects, we'll write a comprehensive case study in the upcoming months. You'll learn about the project GIS setup, data collection workflow and project results. Unfortunately, we can only award the best three project ideas, but we would love to help other applicants who wish to realize their projects on their own with our advice and expertise.