We are excited to announce that the winners of the GIS Day Contest 2016 have been chosen. This is the second time that GIS Cloud awards the best project idea during Geo Awareness Week, and we are very happy with the response.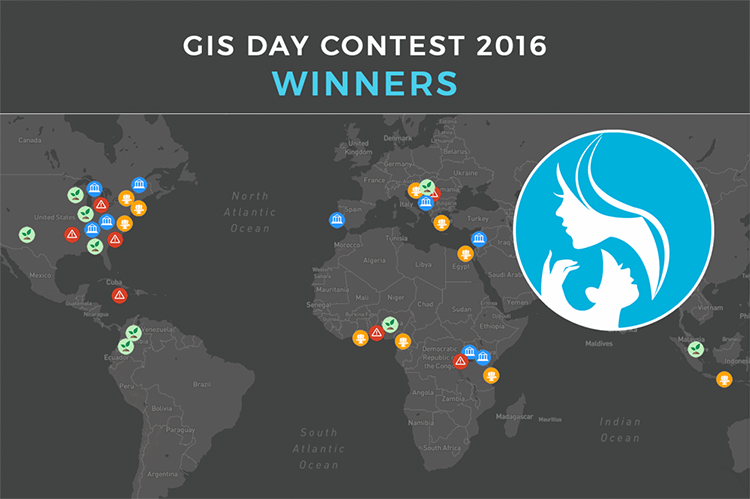 With applications from 18 different countries around the globe, we witnessed the huge diversity of geo-technology use that helps to reshape the face of our planet. It was so hard to choose the final winners, whose stories you will get a chance to read in the following months, that we decided to grant 50% off to all participants who choose to complete their project regardless of the result.
Some of the incredible project ideas we had a chance to read about had a focus on the environment, such as predicting tsunamis, analyzing air quality in urban areas, local water pollution or tracking wildfires. Other projects were focused on helping the community (boosting accessibility for those who are disabled, mapping elderly population, social institutions…) and improving their cities and infrastructure (mapping dangerous roads, tourist maps, local food maps…). Despite the fact that all of the applications were interesting and would definitely improve communities around the world, we had to make a hard decision and choose the 5 best project applications.
This year, we have awarded 3 best project ideas from Tanzania, Cameroon and Greece with GIS Cloud Support and licenses. Also, there are 2 additional Special Awards for ongoing projects of non-profit organizations – Dragodid from Croatia and LifeVest Inside Organization (US).
Here is the map showing where this year's project ideas came from:


1st Award: "Saving Mother and Child", a project from Tanzania. The project idea is to map maternal and child mortality rate throughout the country due to the fact that current system captures only one third of cases and 38% of death causes that happen in hospital. By enabling local communities to record maternal and child mortality rate and death causes using mobile apps, the health services will be provided with the better insight into cases of death in order to improve decision-making process and plan interventions.
2rd Award goes to Greece, where Tassos Labropoulos and Faidra Andrianesi want to realize the "GeoAid" project, with an aim to map the solidarity network that has been developed in the past 7 years due to the humanitarian crisis. The idea is to put the shelters for the homeless, "soup kitchens", institutions of social grocery stores, pharmacies & clinics, collection points of donations in clothing, food & medicine on a map and help people in need with the accurate information. By adding important info about facilities such as capacities and other details, they also intend to assist with management of provided services and inform the general public of the existence and the importance of such solidarity network.
3rd Award goes to Cameroon, where Axelle Tchadjet Nzia, Kendie kenmoe, Loïc Kemmo and Pelagie Temgoua want to create the BAMNA' ("Be Careful") Maps App, a web and mobile application that collects, queries, analyzes, stores, maps and provides statistical data of risk areas and times when different types of attacks happened. Their idea was to help in improving people's security and decision-making when it comes to  assessing the chances of facing an attack, knowing that the number of attacks such as ritual crimes, Boko Haram attacks, robberies, rape and murder is on the raise.
GIS Cloud Special Awards for Non-profit Organizations:
Suhozid.hr

– Dragodid (Croatia) – An interactive map of drywalls in Croatia by Dragodid organization.
Dragodid is an organization that helps in preserving national heritage and traditional architecture in Croatia, combining the interdisciplinary expertise of specialists (architects, ethnologists, agriculturists) who won international acknowledgements for their efforts.
Suhozid.hr is an ongoing project by numerous volunteers that map traditional architecture in Croatia.
This project is supported by GIS Cloud partners in Croatia – Smart Cloud.
Worldwide Kindness Mapping – LifeVest Inside

(US) – an interactive online mapping application – mapping out acts of kindness around the world and the Dance for Kindness events worldwide, by LifeVest Inside non-profit organization.
Their goal is to spread awareness about kindness and helping others as well as promoting Dance for Kindness events around the world.