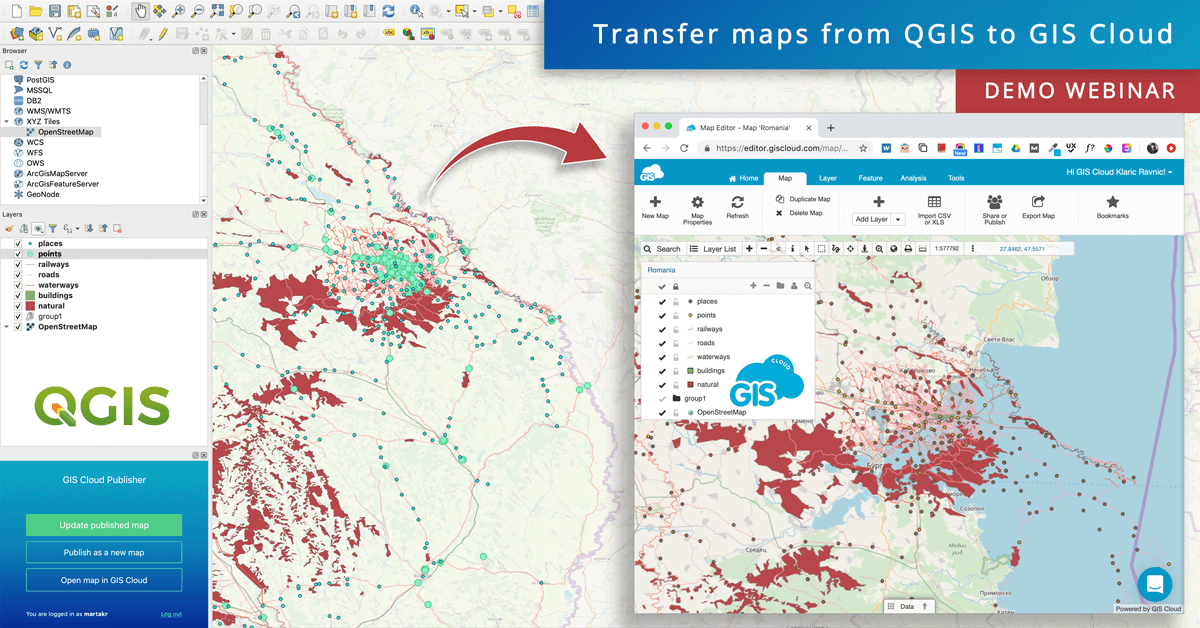 We have a QGIS plugin coming out soon! And we want to give you a sneak peek before the official release.

The plugin is called GIS Cloud Publisher for QGIS. It will allow you to transfer maps from QGIS to GIS Cloud in a matter of minutes. Rich symbology included! The idea is that what you see in desktop QGIS is instantly replicated on your GIS Cloud account.

We'll showcase the plugin next week in a Live Demo Webinar followed by an in-depth Q&A session. Register on the link below to participate!
Webinar time and date:
WEDNESDAY, SEP 25th at
5 pm CEST (3 pm UTC), 11 am EDT, 8 am PDT
Webinar Outline

Introducing the GIS Cloud Publisher for QGIS

A quick overview of the plugin's key features:
Transfer your QGIS symbology and rasters

Upload only visible layers for a fast workflow

Update your map or specific layers

The QGIS plugin is compatible with QGIS 2.18 and 3.8 (older versions included)

Connect to GIS Cloud with a secure SSL connection

Transfer QGIS data to GIS Cloud

Supports points, lines, polygons, categories, and labels completely
Live Demo

We'll show you how easy it is to transfer a map from QGIS to GIS Cloud.
In-depth Q&A Session

After the live demo, feel free to ask us anything regarding the QGIS plugin.