A single click solution to get your maps from ArcMap to the Cloud!
Exciting times are happening in GIS Cloud, as we get more and more feedback from our users. Your feedback is what makes our team develop faster and even better solutions for you.
As our GIS culture is based on a very open approach, we are not trying to lock you in your own solutions, but work together and provide you with custom solutions specifically for your needs. GIS Cloud supports philosophy "embrace & extend" which means that we are not trying to displace traditional solutions, but actually extend the current GIS investment to the entire enterprise by providing a platform that is much easier to work with.
We have always been focused on making your GIS workflows more efficient to save you time and money. Therefore we would like to stress how you can accomplish that by using our GIS Cloud Publisher extension for one of the most popular desktop GIS tools out there: Esri ArcMap
The extension has been made highly compatible and works with any ArcGIS 9.x and 10.2+.
Download it here: GIS Cloud Publisher for ArcMap (600kB)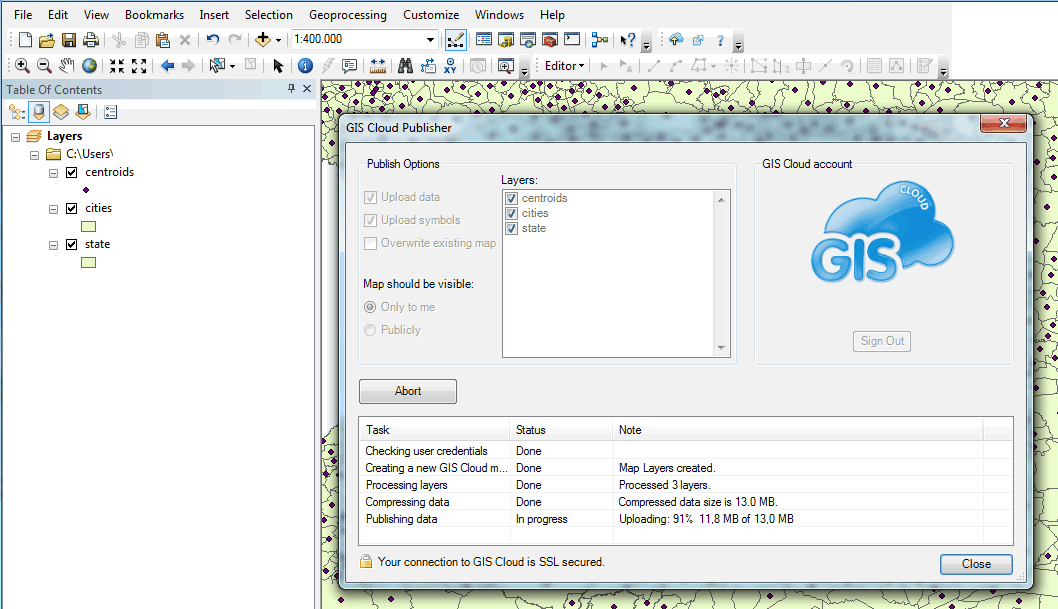 Publisher for ArcMap enables our users to publish their data with only one click, directly from ArcMap to GIS Cloud. It automatically uploads your data, symbology, layer structure and spatial references. The idea is that what you see in your desktop GIS is instantly replicated on your GIS Cloud account. Once your maps and data are on GIS Cloud, they are easily published to the public or embedded into your website/blog without a need for having your own servers.
Publisher for ArcMap allows you to:
Publish Maps, Layers and Data
Secure SSL connection to GIS Cloud
Choose which layers to export
Support for create and update
Vector data can be uploaded, regardless of the datasource
Transfer Symbology
Point layer symbology support almost at 100%
Simple line symbols – only solid lines
Support for create and update
Simple fill symbols – only single color fills
Unique value categories or graduated color symbology
Labels