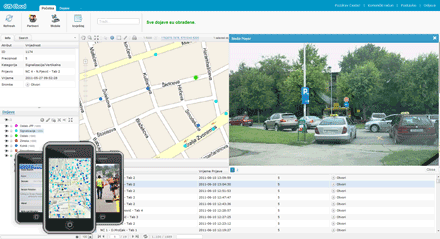 Following the GIS Cloud release we have made last week, our little developers workshop has prepared yet another treat for GIS Cloud fans. After the announcement for beta testing made over a month ago, a mobile data collection application is now available for download from Android Market to all with Android 1.6+ smartphones.
To install the app follow this link to Android Market.


For more information on how to make the best of GIS Cloud Mobile Data Collection take a look at our brief tutorial.
The idea is to enable collecting data off-site and make it as easy as possible. A few taps of the finger and you have media enriched location information available from anywhere. We believe there is nothing better than being able to simply populate a map layer with real time data which can immediately be analyzed, shared and published. Collect points and assign images and audio to them as attributes – it is as simple as that.
The data is collected into a layer in GIS Cloud. Using GIS Cloud you can create maps, set styles, edit attribute information and perform various data post-processing. A map can be shared with others in remote offices making the data easily available. With a few clicks the collected data can be exported into an ESRI Shapefile, MapInfo, KML or CSV for use with other software.
A cloud based solution for data management enables an up-to-date database available to off-site workers, in the office or to the management while at the same time making day to day tasks more fluid and organized. Making data available to your colleagues through GIS Cloud helps increase productivity and enables a timely response.
Features:
Populate the map with your locations
Assign images and audio as attributes
Add a text description to collected locations
Soon introducing:
Map view with your own GIS data directly from GIS Cloud
Custom collection forms
Offline mode
Collecting polygons and lines
Collecting videos
Tracklogs
Editing capabilities
…
For any further information feel free to contact us directly at vanja@giscloud.com.