Dear GIS Cloud Community,
Holiday season is upon us, so we have great news for our users and users to be.
GIS Cloud is launching a new free application: Mobile Data Collection Portal, announcing a new 'update feature' for our Mobile application as well as publishing a new use case.
On top of all that, we are giving you a discount on our Mobile Data Collection (MDC) app.
Holiday Discount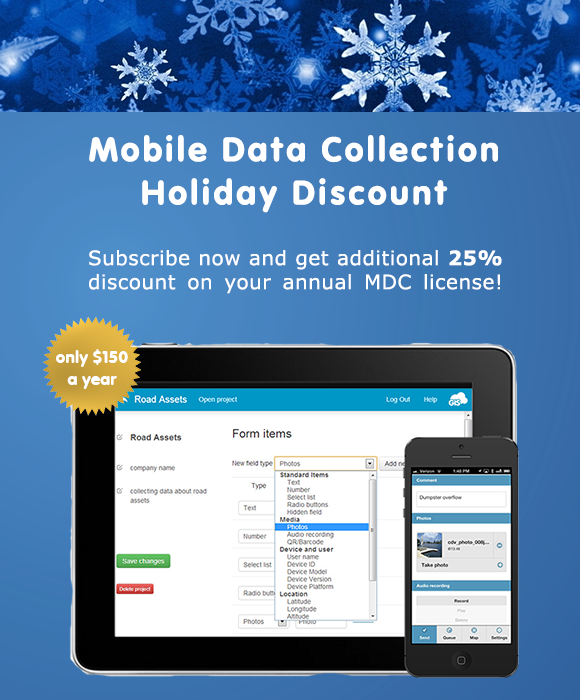 This offer is until the end of this year, so claim your discount today!

This is the newest GIS Cloud application, making your data collection process faster and easier than ever before. MDC Portal gives you the possibility of creating custom forms inside the app itself, without the need of creating it in Map Editor as it has been done so far. Creating projects, custom forms and reports are just a click away.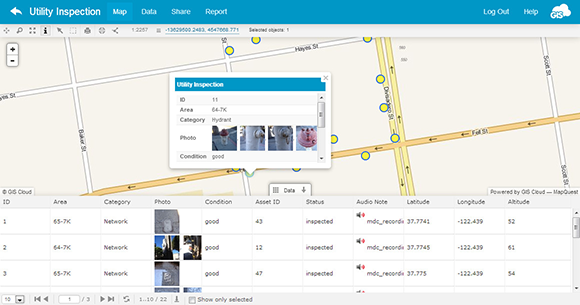 Key values:
Free sign in/use your existing username
Creating and editing custom forms within the app
Access to projects and forms with your mobile app
Full data display
Share your projects with other users
Creating reports (with all the data and media collected)
Saving reports to your desktop
Examples:
Roadwork monitoring (Track the changes in your road assets)
Tree inventory (Pest monitoring)
Health Care (Monitor and track disease outbreaks)
Utility Inspection (monitoring of changes made in time)
Watershed and waterways monitoring
As always, our users matter the most, therefore we are announcing the 'update feature' which will enable you to make edits to existing features within the mobile application itself. More about this upgrade in the following days so stay tuned!
Also, check our previous case studies:
Maple Grove Tree Inventory Case Study
Mobile Data Collection: City Infrastructure Research Case Study
(New) Patho Map Case Study