Dear GIS Cloud Community,
As our departure day slowly approaches, we would like to focus a bit more on one our highlights of the trip, the Dreamforce conference by Salesforce.com.
GIS Cloud is proud to announce that we will be launching new applications on the Salesforce Platform. Our attendance at Dreamforce will be a perfect environment to present these new apps to a wider circle of Cloud technology users. Therefore, GIS Cloud core team would like to invite you to come and join us in attending this life-altering event in San Francisco from November 18th – November 21st.

Here are some interesting facts about Dreamforce:
Over the past ten years, Dreamforce has become the biggest cloud computing event of the year and the largest vendor technology conference in the world. It has grown significantly in number of exhibitors, attendees and individuals watching Dreamforce online via Salesforce Live.
First Dreamforce event was in 2003 and it had attendance of 1300 individuals, while this year (2013), the attendance is expected to be over 120,000 visitors.

The Cloud Expo at Dreamforce hosted 50 exhibitors in 2003, while this year it is expected to have 350 exhibitors.

Dreamforce conference will have more than 1,250 expert-led sessions where attendees will get the latest product updates, hands-on with new technologies and tips and tricks directly from the experts on the matter: the future of cloud innovation.

Keynote speakers at Dreamforce 2013 will include Marc Benioff (Chairman & CEO of Salesforce.com) , Sheryl Sandberg (COO of Facebook), Marissa Mayer (President & CEO of Yahoo), Deepak Chopra (Founder of the Chopra Foundation), Laurent Lamothe (Prime Minister of Haiti) and many more.
Check out this cool infographic commissioned by Salesforce.com that portrays the growth of Dreamforce in the past ten years.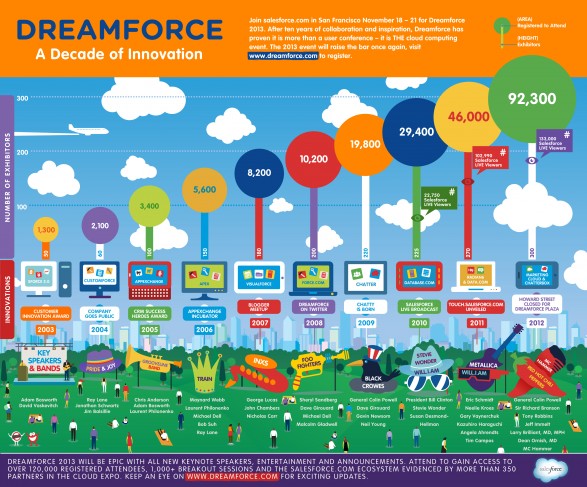 Be sure to ping us early and say hi to the GIS Cloud core team in person during our stay in the US (November 6th – December 9th).