On November 3rd, 2016, we held the webinar that was dedicated to exploring the 3D visualization support within GIS Cloud environment. Watch the exclusive preview and check out some of the questions listed below, that were answered after the presentation.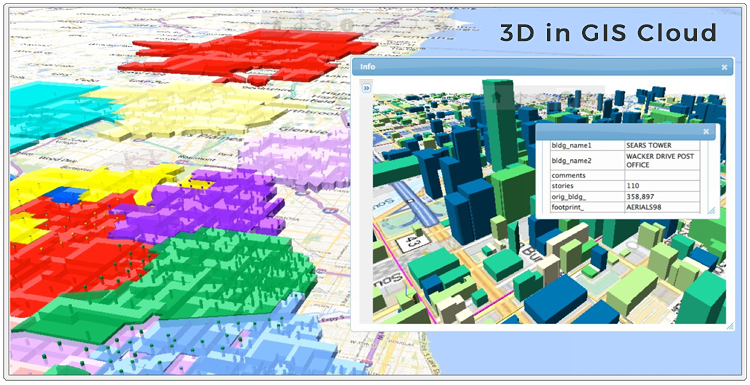 The possibility to explore 3D integration with GIS Cloud will be available to users who fill in the form (below the summary) to view the recording. The recording includes a quick 3D Map visualization demo using the example of San Francisco area with approximately 85 000 buildings as vector objects with elevation data. Data about nearly 10 000 crime incidents for the area, derived from crime statistics is shown in an interactive map. You will get a chance to see how 2D preview translates to 3D visualization while preserving the excellent performance GIS Cloud already provides (fast processing and rendering). After observing the key features of GIS Cloud 3D in action, several use cases are presented in the recording:
using GIS Cloud 3D for mineral exploration (drill holes and structures)
smart cities (noise impact assessment project)
business analytics (trade area analysis).
You will also get the info on how to apply to test GIS Cloud 3D using your own data.
To access the recording, fill in the form:
The recording includes a discussion, where you can find the answers to the following questions (among others):
Is it possible to create a 3D digital terrain models from raster images?

Is it possible to script the movement of points and dynamic textures?

Is the solution already tested with an orthophoto and DTM or other digital terrain model?

What are the plans for further development of what we saw today?

Can detailed architectural models be imported?

Can it work on mobile and tablet devices?

How do you stream data in 3D live?

Can you render point clouds?

Does the system work on mobile and tablet devices?

Is it possible to bring in 3D objects (DXF, or other format)?
Have questions or want to apply for trying it out? Contact us here.