During the last webinar, GIS for Water Resource and Watershed Management, there were many questions regarding GIS Cloud options and solutions. As there was no time to address them all in one webinar session, and some of these questions are often asked by our users, we decided to cover the most frequent ones in this blog post.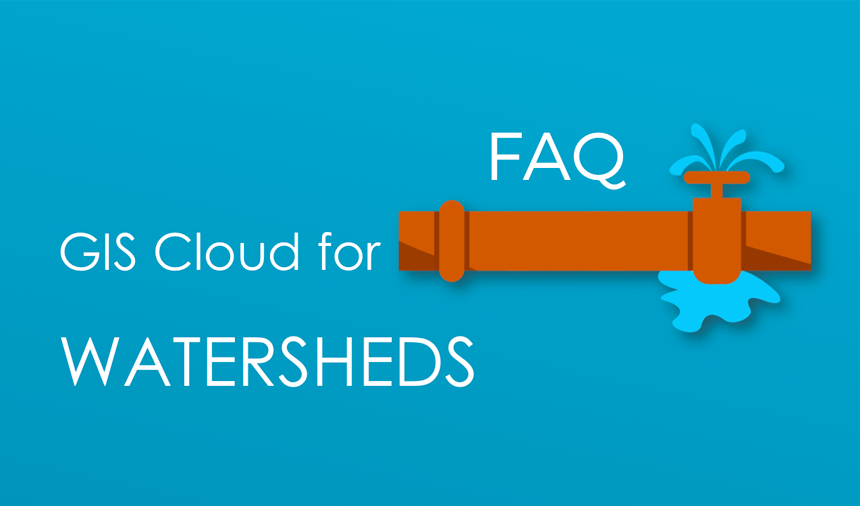 Is your solution specific for Watersheds and how is it different from desktop tools Watershed departments use?
GIS Cloud offers a way to extend your existing workflow with cloud-based GIS solutions that allow you to share your project with different stakeholders, organizations, and citizens. It can not only improve your data collection, sharing, project collaboration and publishing workflow but also gives you an opportunity to create more value from your data.
How is it done? After you upload your data to GIS Cloud, you are only one click away from sharing it privately or publicly with your colleagues, citizens or clients. Different people can collaborate with you adding or editing data, commenting, sending updates from the field and so on. You can also integrate GIS Cloud with your sensor and other equipment that can send updates directly to a map in real-time, which is especially useful for Risk Management purposes.
All of your data suddenly becomes available on any device, where you can monitor it in real-time.  Also, you can set up a custom portal with your watershed data for the citizens and field crews in cases of droughts or floods.
In short, GIS Cloud gives you a way to unlock the potential of data that was available only to expert users and make it work for you in situations such as monitoring floods.
What kind of analysis tools are available in GIS Cloud?
In GIS Cloud, you can use basic analysis tools such as heatmaps, buffer, and distance. As an expert user, you will always need more advanced/desktop solutions for sophisticated analysis. That's why we have Publisher for ArcMap that allows you to upload your ArcGIS data to GIS Cloud. So, GIS Cloud offers you a way to use the results you get with those solutions – not just to print a map, but to collaborate in real-time with your colleagues, putting your results to work. Desktop tools are primarily used by GIS experts and departments, but GIS Cloud is used by everybody else.
Can I visualize 3D data in GIS Cloud?
GIS Cloud offers an extension/integration that enables you to visualize 3D data. At the moment, this feature is available only upon request. You can find more info in GIS Cloud 3D demo webinar recording, which covers an example of visualizing hydrology models in 3D.
Is it possible to integrate different water monitoring tools such as water quantity sensors in GIS Cloud?
You can integrate various water monitoring tools in GIS Cloud by using our API that allows custom development of integrations with sensors for monitoring water levels as well as other types of sensor equipment.
For example, Orange County in California customized GIS Cloud REST API in a way that they adjusted it to push the data from over 80 stations that measure water levels throughout the county.
What are the options for collecting Watersheds data in the field?
You can add data directly to your project in real-time using Mobile Data Collection app, which works on tablets and smartphones, by filling in the custom form that you set up depending on your needs.
Also, GIS Cloud will soon release a crowdsourcing application for collecting data. If you are interested in trying it out, contact us here.
How to control data quality and privacy in GIS Cloud in case there is a need to share only part of our data with the public?
We give you the tools to ask for feedback from other users as well as tools to control that data, so it is up to you will you use it. One significant benefit of GIS Cloud is that it enables you to choose what kind of access you want to give to a particular user. So, if you want to make the map public, you can easily share with anybody, while you can also decide to share it with certain privileges (edit, view, collect, share, publish data) to a user or a groups users.
Do you have any use cases about Watersheds and Water Resource Management?
Here are some examples:
Also, you can watch our webinar dedicated to uses of GIS in Watershed and Water Resource Management.
Interested in using GIS Cloud for Water Resource and Watershed Management?
Sign up and try it out for yourself or contact our sales team for more info.