Ede is a municipality and a town in Netherlands with a population over 110.000 people. Its proximity to major highways and railways offers fast connections to the port city of Rotterdam, the airport of Schiphol and the Ruhr Area in Germany makes Ede an economically propulsive area.
A pressing need occurred for a more innovative mapping approach, making different types of locational data and associated information easily accessible to large audiences. Information like infrastructure, recreation and education locations, parcel information along with the possibility of adding media to the locational data, became a necessity. However, a challenge presented itself in the performance of such a project as it needed to be regulated by Dutch web mapping regulations.
Challenges
Compliancy with Dutch web mapping regulations
Option to consume data from official data provider "Nationaal Georegister"
Supporting different services like WMS, TMS, WFS, WMTS
Lack of an easily available, accessible and affordable way of displaying the data to a large audience
Layout customization
Ability to render "big" maps on mobile devices
Easy and user friendly access to data via smartphones and tablets
Need for an easy way to provide existing data like PDFs, videos and images to public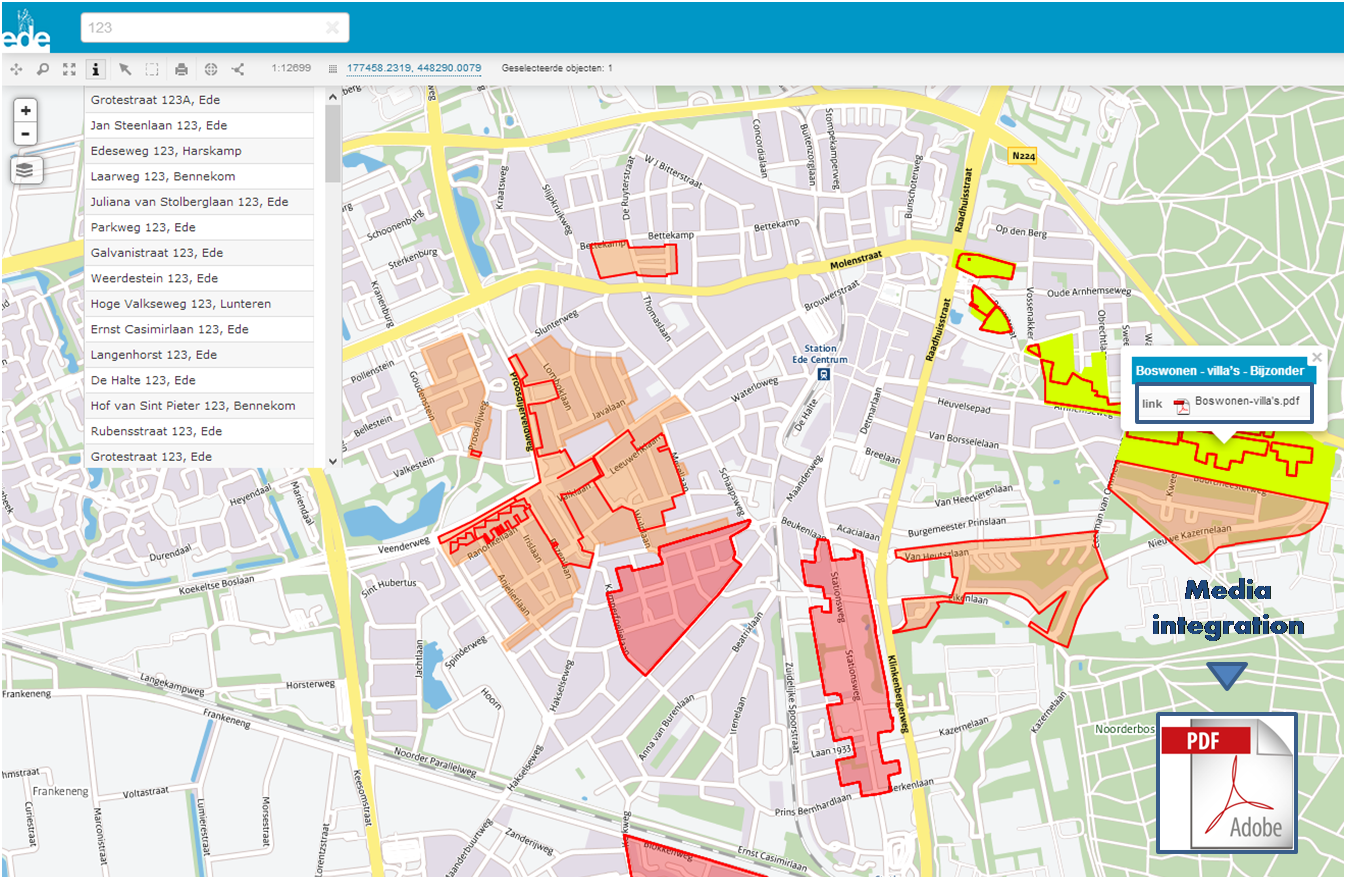 Enrich your data with different types of media
The main challenge for the municipality of Ede was the compliance with the national web mapping regulations. This meant that special effort had to be placed on HTML optimization in order to obtain validation based on Dutch strict web mapping regulations. The idea was to create an out of the box solution that would be compliant with their web mapping regulations but still gave them the freedom of customization based on their preferences.
Solution
GIS Cloud Map Portal is an ideal solution for the municipality of Ede as it provides customization options in terms of language, layout view and accessibility. Ede Map Portal uses the fastest vector based engine in the world, providing a more accessible way of visualizing, analyzing and sharing geospatial data. End users have an open access to their parcel and address data, which is searchable by the address. Different media (ie. photos, videos, PDF documents) can be attached to the data and easily accessed through the Map Portal.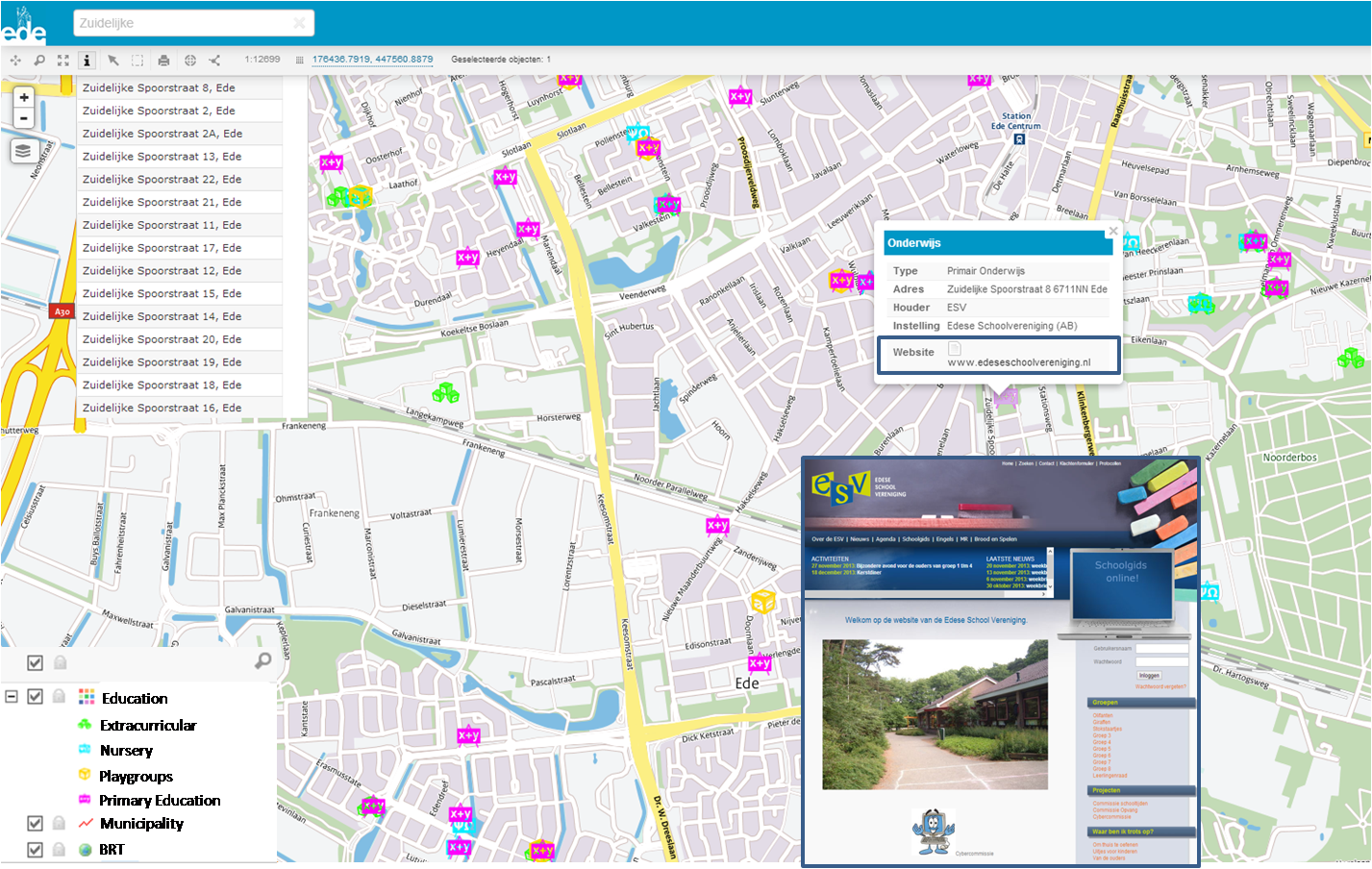 Map Portal key features: search tool and media integration
Different layouts can be created, all based on one's preference. An example is a layout showing different locations of educational facilities. Facilities are also searchable by the address and each facility has its corresponding website attached to the layer through the media integration. Naturally, viewers can access all the information on their tablets and smartphones as well.
Results
Customization of layout view and language for data portal based on the needs of authorities and end users of the municipality of Ede
Secure access to Map Portal via smartphones and tablets from any location
Map Portal solution that is compatible with Dutch national web mapping regulations along with capability to support OGC services such as WMS, TMS, WFS and WMTS (i.e. Nationaal Georegister)
Fast data browsing done on mobile devices and tablets
Option to associate media files to locational data