This year, we had many exciting events during the Geo Awareness Week and GIS Day.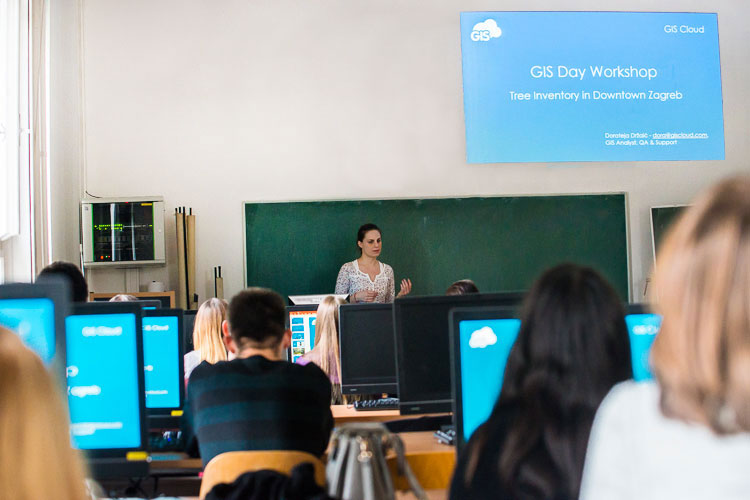 These events were also an opportunity to launch another GIS Day Contest, awarding best mapping projects that use geo technology in an innovative way and make an impact on local communities all around the world. There is still time left to apply – just by filling in the simple form.
GIS Day on November 16th was also a great occasion to spend our time promoting GIS technologies to students, companies, and the public sector. GIS Cloud together with partners from Spatial Vision and Teramaps seized an opportunity to demonstrate how to use geo technology to improve both daily functioning in different organizations and society in general.
GIS Cloud presentation and Tree Inventory Workshop for students at the University of Zagreb

As the most important aspect of celebrating GIS Day and increasing geo awareness through the education process, GIS Cloud team held a presentation and the Tree Inventory Workshop for students of geography and natural sciences at the University of Zagreb. The presentation, held by Jaka Ćosić, our Junior Sales Manager, explored the possibilities that cloud based GIS offers, including case studies and insights into contemporary trends in geo technology.
Tree Inventory Workshop offered a unique opportunity for students to map trees around the faculty using Mobile Data Collection app and later analyzing the data back in the classroom using Map Editor. In just 2 hours, 4 groups of students managed to collect the data on trees surrounding the faculty, visualize it on a map and learn how to classify and filter the data. With the help of Doroteja Držaić from GIS Cloud Support and Quality Assurance team, they also learned other basic skills in Map Editor, for example how to perform the heatmap analysis on the data they collected. Students have shown a lot of interest for mobile and web apps as well as digital maps.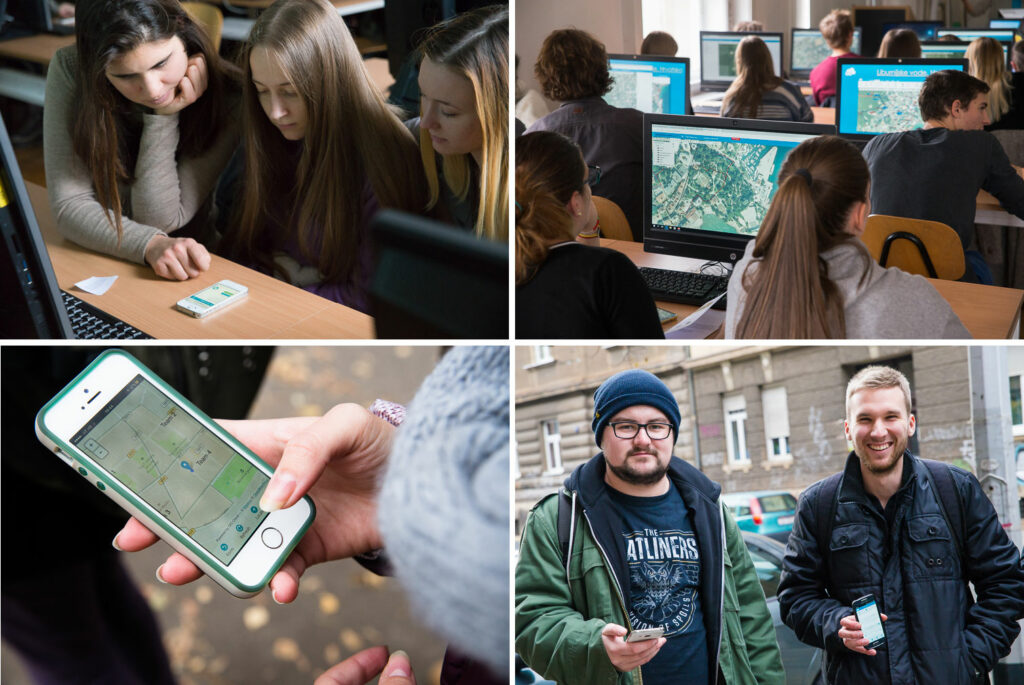 After giving a practical insight and case studies during the presentation and the workshop, students were encouraged to apply for the GIS Day Contest with their project ideas.
Visiting students at the University of Zagreb was a great success, and the faculty staff expressed interest in continuing with similar events in the future.
GIS Cloud solution for the Carabineros – Police of Chile was presented at the 3rd Summit of Police Chiefs, IBERPOL in Chile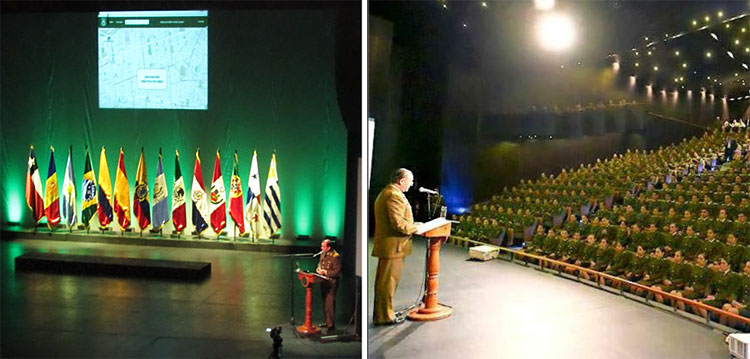 On the same day, GIS Cloud solution for the Police of Chile was presented at the IBERPOL, 3rd Summit of Police Chiefs in front of the President of Chile – Michelle Bachelet, 13 Chiefs of Police from different countries and 40 majors of Chile municipalities. The meeting also included representatives of police forces from 22 countries: Andorra, Argentina, Bolivia, Brazil, Colombia, Costa Rica, Cuba, Ecuador, El Salvador, Spain, Guatemala, Honduras, Mexico, Nicaragua, Panama, Paraguay, Peru, Portugal , Dominican Republic, Uruguay and Venezuela, and Chile.
The presentation, which took place in the capital of Chile, Santiago, was held by the National Police of Chile (Carabineros) Director, Victor Herrera Pintor.
The technical team that implemented "Community Police Managment Analysis" system, built on the GIS Cloud customized API, Map Editor and Map Portal apps, consisted of 2 software developers, 4 cartographers and 2 members of the police.
Patricio Llanos from Teramaps, GIS Cloud partners for Chile, responsible for introducing the system to chilean police, stated that the system was implemented very successfully, with more than 1. 200 map views in the first day of use.

On the occasion of releasing the new GIS system for the police of Chile, the President of Chile Michelle Bachelet noted that "Public safety must be confronted with a global, transversal approach, involving our entire society, facing new criminal challenges with all our professional and technological skills."
Spatial Vision presented GIS Cloud platform at their GIS Day event in Melbourne
GIS Cloud's partners for Australia and New Zealand, Spatial Vision, organized the first GIS Day event that was held in their Melbourne headquarters. They decided to run their own event in the 2016 in order to engage with the wider population of people, including those who didn't have any previous experience with geo technologies.
This was a great opportunity to show the benefits of GIS and geo technologies to different people. The event included two sessions that were held by Albert Matthews, Graeme Martin, Imran Quazi, and Geoff Williams, its topics including Mobile Data Collection and the new initiative SV prospector – a sales tool for finding new customers that is based on the GIS Cloud platform.

Albert Matthews from Spatial Vision noted that they were very happy with the turnout and that they expect to organize an even bigger event in the next year.

Celebrate Geo Awareness Week with us and join the GIS Day Contest.