As a cinema and movie enthusiast, GIS student Zrinka Zelenika decided to map the old cinemas in her hometown, City of Zagreb, Croatia, to make this information available to cinephiles and movie-goers.

Read more about her project and explore the interactive Map Portal she created and enriched with additional data and media, search and filtering options.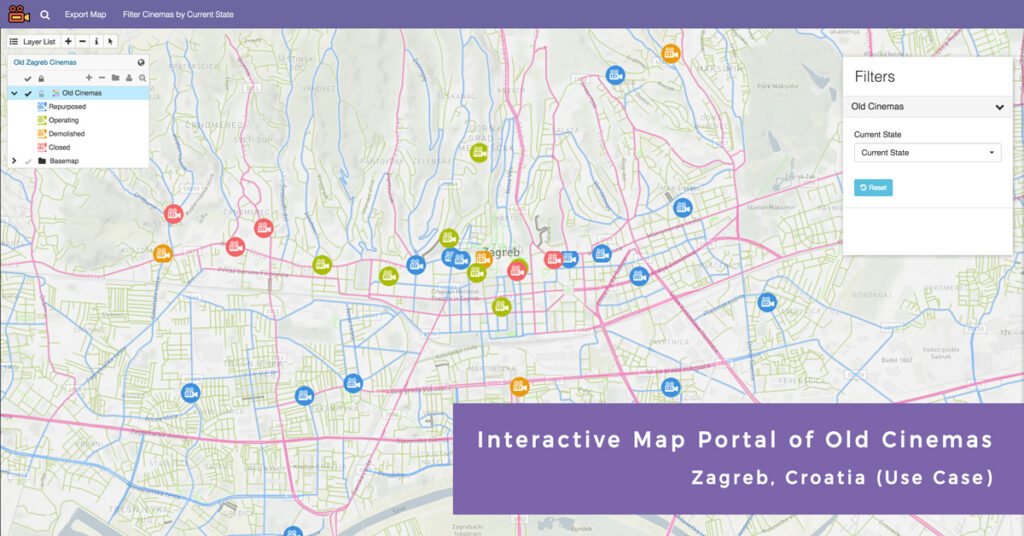 Even though in today's digital age cinemas lost a part of their function and relevance, many people still prefer watching movies on the big screen. In the past, cinemas played a significant role in the social life of neighborhoods and cities, and they were often more than just a place to go watch a movie.

When researching for information to include in her map, Zrinka came across a blog containing a list of all the cinemas throughout the city history. She was thrilled to find that authors, Vanja Radovanović and his collaborators Vladimir Tarnovski, Goran Pinter and Mladen Sokele, included not only existing theaters that still play movies, but also the old ones, nowadays known only for their historical value.

The list provided the info on the current state of the theater, for instance, whether it is still operating or not, is it demolished or repurposed, along with the pictures showing the cinema entrance. The pre-existing list made it easier to form the database containing cinema information in a spreadsheet, that was later used to create the map of cinemas. The list required only a slight update, as it was initially made 7 years ago.

Choosing the right tools to create a user-friendly Map Portal
To visualize gathered information and present all available data about a particular cinema theatre in one place, Zrinka decided to create a public and branded Map Portal. This way, she could share map content with a broad audience in a simple Map Portal interface and include different map options offered in GIS Cloud platform, for a fast and intuitive overview of the data on cinemas.

Zrinka wanted to facilitate film enthusiasts and other interested parties to easily browse the city cinemas, and get all the information by clicking on a point representing a certain cinema theater on the map.

To make information even more accessible, she decided to include a search tool in her Map Portal. It can help to quickly find accurate information when searching for data regarding a  particular cinema theater. When clicking on the specific search result, the map zooms into the position of the feature (point) representing associated cinema theater, containing information you searched for in the info window.

Click here to browse the cinema Map Portal, notice custom branding and a search option.


User-friendly and straightforward map interface allows anyone to use the map and filter the cinemas according to their current state of use. A person interested only in cinemas that are still operating can choose this attribute in the filter module dropdown. Instantly, the map shows only points representing operating cinemas, and it also adjusts the map view by recentering and zooming into the position of filtered cinemas.

A lot has changed in the past 7 years; some theatres opened, some closed, and some reopened. So it was also necessary to use a tool which has the option to quickly and easily update the data in the future. Of course, having an accurate view of the real-time data is very important so that map could serve its purpose – enable people to find a theatre which is open.

From historical data to the cinema Map Portal in 4 easy steps
GIS Cloud platform provides a perfect solution which includes not only creating a map in no time but also has the option to update data easily and to build a custom Map Portal from the same map you just created. You don't even need to know how to code.

Follow this simple four steps and create your own Map Portal with colors, logo and other options of your choosing, and share it with anyone.

1. Creating a database
To create a map, you need to have spatial data, that is a street name and number of the specific cinema location, as well as additional information which you will use to form a database with all the relevant content. The easiest way to build a database is by sorting all the information into spreadsheets. In this case, Zrinka chose the .xls format.

The table included the name of the cinema, other names (if it had more than one throughout its history), its status (whether it is opened or closed, demolished or has another purpose) links to the cinema web page, and pictures. The table also contained the name of the city and country, otherwise, you would have to add this information manually.

2. Geocoding the addresses
The next step was to use table data in .xls format and to translate the addresses into coordinates to visualize them on a map.

To achieve this, Zrinka used Geocoding and connected table data with a particular point (address) on a map by creating a point feature at the exact location of the actual address of the cinema. This is why Zrinka included a column with street name and number in the table. It only took a few minutes to geocode the whole table. The result of the geocoding process is that each map feature (cinema theater) has all the attributes (address, name, and so on) that were in the table associated with a specific point on a map.

3.  Styling and classifying data using different symbology
Once the Geocoding is over and the data is imported into the GIS Cloud system and shown as a layer on a map, it can be easily styled in the Map Editor application. To apply a style (color, size, and border) to a specific data category represented by a point, you must first classify the data. The cinema theaters were classified according to their current status using a Wizard tool located in Layer properties. After the classification, the system applies a random color to a point which you can customize by changing the appearance of the point. In this case, Zrinka decided to import custom icons to make the map more appealing. Each color represents a specific current state of the cinema. Green icons represent the cinema theaters which are currently operating; red icons stand for the ones that are closed. Demolished cinemas have an orange icon, and the blue ones indicate that the cinema has been repurposed.

Map Editor also has an option to manually edit information about each point (cinema) on a map. For example, the pictures of each cinema theater were added separately, simply by clicking the point features and attaching the photo. The same thing was done to add the web pages of the currently working cinemas.

4. Creating a branded Map Portal
At this moment the map is ready to be transformed into a user-friendly interface using App Builder to create a custom interactive Map Portal, that is to make an entire geo application.

When building a portal, you can choose a color for your ribbon, add your own logo, the name of the project, search tool and filters directly on the map. In this way, you are branding your Map Portal which will be public and accessed by many people, and a custom interface will help to get noticed. You can control what the audience will be able to see, for example, you can change the visibility of the layers, turn on the filters, etc.

Click here to see how the Old cinemas Map Portal turned out.

Using GIS Cloud tools, it took only a few hours to make the database, visualize data on a map, and create a custom Map Portal displaying all the cinema theaters in Zagreb. Because the apps are very intuitive, you don't have to be a GIS specialist to create your own map in GIS Cloud.

Watch this webinar recording and learn how you can build your own interactive Map Portal using App Builder, without writing a line of code.

For detailed instructions on creating a Map Portal, consult our GIS Cloud User Manual which includes step-by-step images, or contact us, we'll be happy to help.

Don't forget to sign up to start your mapping adventure!