Win the award for the best project idea contributing to local communities by entering the GIS Day Contest 2017, open from November 9th to November 20th.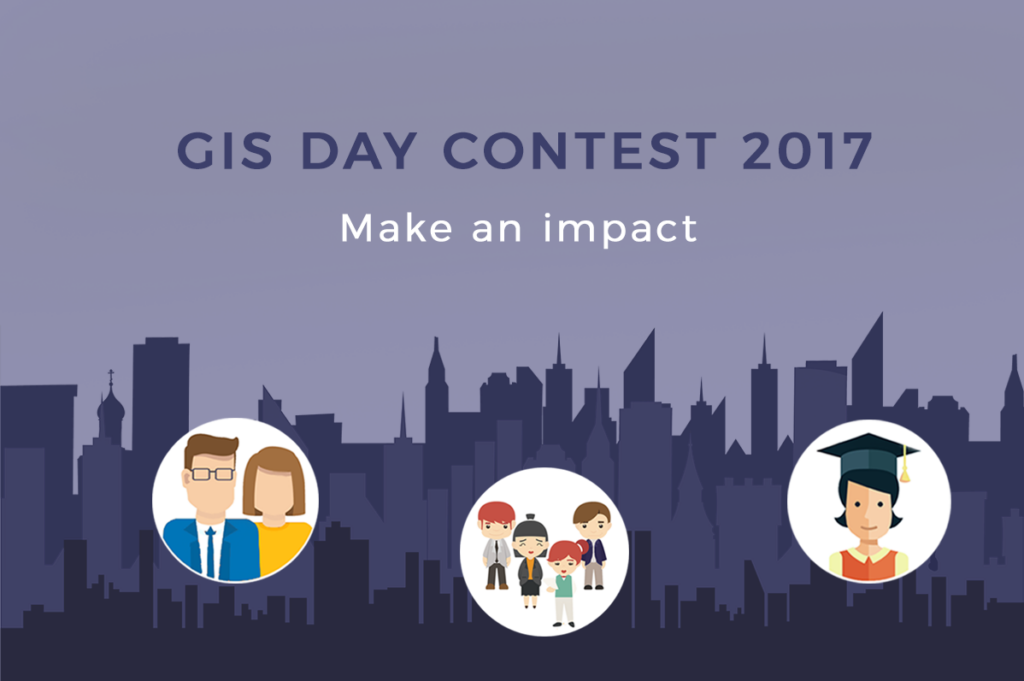 Every year, thousands of Geogeeks worldwide celebrate International GIS Day. We are also joining the celebration with various activities during Geo Awareness Week (November 13 to 19).  
Amazing feedback from contestants and the creative initiatives we discovered in the past two years of organizing a GIS Day Contest (2015 and 2016) encouraged us to keep the tradition moving.
So, we are launching GIS Day Contest 2017 with the goal of promoting initiatives and project ideas that influence advancement and sustainability in local communities around the world.
The main idea of the contest is to motivate non-profit organizations, citizens, college students, academic staff, and start-up companies to engage in the development of their local communities using modern GIS technologies. Geotechnologies can be used to solve problems in a great number of areas such as environmental protection, pollution, preserving cultural heritage, health, security, sustainable infrastructure, citizen initiatives, and more.
Contest guidelines
Contest submissions will be judged on the following criteria:
Community impact
Realization potential (is it realistic that the project will be accomplished within one year)
Originality of the idea and innovative application of geo-technology
Note: You don't have to worry about presenting a detailed project plan. We are rewarding an idea, not the fully elaborated project. GIS Cloud will provide assistance with project elaboration and technical support for setting up the project.
The top 3 project ideas will be rewarded with:
Premium GIS Cloud software licenses (including storage), technical and user support

Project promotion and marketing

GIS Cloud acknowledgment and certification of participation
* Non-profit organizations can compete with their existing projects in the special awards category.
Contest Entry Requirement: at least one member of your team must possess the English skills necessary for correspondence with the GIS Cloud team and filling in the submission form.
Deadline for applications: November 20th, 2017 (00:00 in your timezone)
Results: Winners will be announced within two weeks of the application deadline.
If you have any questions about the GIS Day contest, contact us here.

Apply by filling in the submission form below:
Examples of project ideas
Last year we awarded the 3 best project ideas, which were from Tanzania, Cameroon, and Greece, and mostly involved in the field of Demographics and Social Politics. We also had a special category for supporting the ongoing projects of non-profit organizations, giving two special awards to 4 GRADA DRAGODID from Croatia for their project Suhozid.hr and to LifeVest Inside (US) for their Dance of Kindness project.
Stay tuned for reports from last year's projects.
To get some ideas for the projects, read a report about Suhozid.hr, one of last year's contest winners.
More examples: